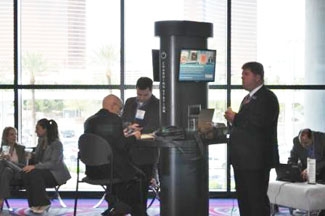 Smart City, provider of event technology, and Monster Media, the out-of-home digital advertising agency, have partnered to develop interactive media solutions for the meeting and convention industry that will be showcased at the annual National Association of Broadcasters (NAB) show this week at the Las Vegas Convention Center (LVCC).

After the success of the companies' initial partnership at the annual Healthcare Information and Management Systems Society (HIMSS) tradeshow in Orlando, Fla., Smart City and Monster Media selected the NAB show to introduce the entire digital signage system for the first time as official partners. Showcased within an interactive lounge environment, representatives of both companies will demonstrate the system's multiple features to exhibitors of the NAB Show.
"We wanted to expand our tradeshow network from interactive booth solutions to something that brought interactive systems to life in an engaging way that attendees had never seen before," said John Payne, president of Monster Media. "Collaborating with Smart City, the largest event technology company was simply a no-brainer, and we are proud to introduce the entire lounge execution at NAB."
Located in the LVCC's Upper South Hall lobby, the interactive lounge will have Monster Media's entire digital system, including the iPOP and kiosk, portable vertical and horizontal plasma touch-screens that have interactive content with sound, video and email capabilities. Also in the lounge are the POD, a portable touch screen wall featuring real-time movement and interaction, and charging stations where show attendees can recharge mobile devices and learn more about the event.
All of the units are mobile and scalable and can be programmed to detect presence and motion while incorporating video and 3D capabilities. The system entertains and informs users with multiple levels of engagement and functionalities, including gesture and touch interaction, video, picture taking, photo manipulation and email features.
Smart City Networks' high-speed wired and wireless networks as well as custom engineered Wi-Fi network enables Monster Media's advanced media solutions to provide attendees new and innovative ways to stay "connected" at conventions.
"Smart City and Monster Media brought us a unique and creative spin on digital signage in the tradeshow space, incorporating analytics and documented feedback on attendees' interests," said Chris Brown, executive vice president of NAB.
"Smart City Networks continues to seek opportunities to better serve our customers at tradeshows and events," said Mark Haley, president of Smart City Networks. "Monster Media's products are more than a simple sign that loops an advertisement. The displays gather information from attendees and users that can enhance the value of the sponsorship that a show manager can sell to his or her exhibitors."
Monster Media and Smart City will continue to grow their partnership and the use of these systems both independent of facilities and as a preferred vendor around the U.S. this year.