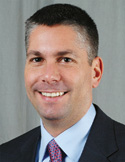 SmithBucklin, an association management company, announced Feb 18 in Chicago the promotion of Howard F. Fisher to vice president of sales services. Fisher is a member of the SmithBucklin corporate management team and will continue to work out of the company's Chicago office, reporting to Julie Silverstein, president and chief operating officer.


In his new role, Fisher leads SmithBucklin's specialized sales services team to help client organizations develop and implement exhibit and sponsorship programs and to support annual or regional conferences, as well as year-round partner programs and special offerings. The goal of these programs is to provide client organizations with the ability to leverage all of their assets throughout the year.
"SmithBucklin offers a proven and cost-effective outsourced sales model that is unique in the association industry," Silverstein said. "Now, more than ever, associations need to review, adapt and evaluate their sponsorships programs to meet the changing needs of their members, exhibitors, sponsors, and advertisers. Howard is a success-driven sales leader who is passionate about driving value for our client organizations."
SmithBucklin sales professionals help client organizations drive revenue growth throughout the year by utilizing a consultative selling methodology focused on developing and sustaining long-term relationships with key decision makers and influencers and by creating strategic sales plans fueled by steadfast prospecting and outreach programs.
Fisher joined SmithBucklin in July 2006 as executive director of InSight, the McKesson technology user group, and Mosaic, an independent community of InforT software users. Since April 2008, he has served as senior director, sales services. Prior to joining SmithBucklin, Fisher worked at LexisNexis for seven years. During his tenure, he led his client teams to deliver consistent revenue growth, to create and implement business development initiatives and to design and roll out new products and solutions while growing client relationships.