Colorado Convention Center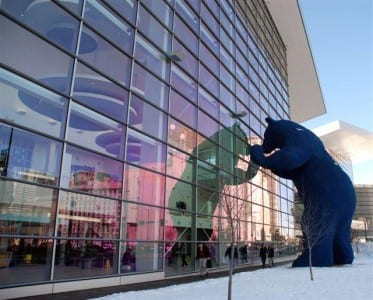 Sitting in the heart of downtown Denver is the Colorado Convention Center which opens its doors to more than 250 events annually. The CCC is 2.2 million gross square feet including an exhibit hall, two ballrooms and the Bellco Theatre. Located within walking distance the Colorado Convention center is close to over 8,400 hotel rooms, 300 restaurants, 9 theatres of the Denver Performing Arts Complex and has a wide variety of shopping and retail outlets. The center is the first to achieve certification as a venue which meets the ASTM Environmentally Sustainable Meetings, Events, Trade Shows, and Conferences (E2774-11) aspiring to lead the industry in terms of sustainable practices.
Kansas City Convention Center
As the place that can accommodate all your exhibit and meeting needs, the Kansas City Convention Center is eight-square blocks and has 388,800 square feet of column-free exhibit space on one floor; 48 state-of-the-art meeting rooms; a 2,400-seat fine arts theater; an arena that sits more than10,700 people and a unique outdoor festival plaza. Benefitting attendees, the complex is connected to major downtown hotels and parking by skywalks and underground walkways.
Younes Conference Center
With four adjacent upscale hotel facilities, the Younes Conference Center is a great location for a conference, tradeshow, convention, banquet or reception.  The facility is owned and operated by a long standing leader in Nebraska's hospitality industry, "Younes Hospitality" – recognized as an innovative leader in hotels and meeting facilities. As a dedicated meeting facility YCC is the largest between Omaha and Denver with over 48,000 square feet of conference and meeting space. The center has 21 breakout rooms for 40-340 persons each, two large ballrooms and free broadband internet for up to 500 users at a time.
Austin Convention Center
Constructed of native Texas materials reflecting the architectural diversity of a vibrant and historical city is the Austin Convention Center. Expanding over six city blocks and 881,400 gross square feet of space, the center offers 247,052 square feet of column-free exhibit space. The center also has many ballrooms and 54 meeting rooms and show offices that offer 58,000 square feet located on all four levels and are designed for maximal adaptability.
Arkansas Convention Center
With approximately 220,000 square feet of public, meeting and exhibit space, the Statehouse Convention Center offers versatility and adaptability to all attendees and meeting planners. Physically connected to the center is the Little Rock Marriott hotel, providing guests with even more convenience. The center includes three ballrooms, a foyer, Toltec room, four 82,892 square foot Governor's halls, Rotunda and five meeting rooms.
Century II Performing Arts & Convention Center
Completed in 1969, the unique circular Century II Performing Arts & Convention center replaced The Forum and has been Wichita's main facility since that time. This center provides an economic benefit to Wichita by serving as a Performing Arts facility and convention center. The center supplies quality customer service including a safe and clean venue for private and public conferences including the performing arts, conventions, tradeshows, banquets, meetings, public exhibits, religious programs and special events. The center has four halls, 22 meeting rooms, and the lovely Mary Jane Teall Theatre. The Mary Jane Teall Theatre can be used for meetings, lectures, audio-visual presentations and seminars and seats 652 comfortably.