The 2021 St. Barth Art Week will take place November 22 to December 2. This year, the special week includes the debut of the St. Barth Photo Festival, which includes exhibitions from 10 world-renowned fashion photographers hosted at the island's most luxurious 5-star hotels. The festival includes two exhibitions from photographer Brian Bowen Smith at the new Hôtel Barrière Le Carl Gustaf beginning on November 28. Both exhibits exemplify Smith's signature timeless and elegant style. Drivebys, the first series of photographs, is shot from the perspective of the passenger seat of a car that feature a cinematic snapshot of the surrounding views. The second series includes photos of ethereal and delicate figures that are more in the style of impressionism. Smith rose to fame after catching the eye of legendary fashion photographer Herb Ritts, who served as a friend and mentor to Smith. Brian Bowen Smith has gone on to publish two books and shoot for countless publications and commercial clients.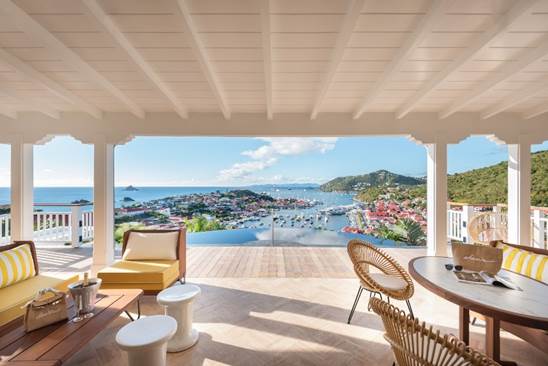 The chic and relaxing ambiance of Le Carl Gustaf perfectly matches the artistic form of Brian Bowen Smith's photos. The property opened in October 2020 and is set amid tropical elegance that promotes an environment of wellbeing, relaxation and letting go. Le Carl Gustaf is the only hotel on the island boasting panoramic views of the port of Gustavia, the island's capital. The hotel is also situated in close distance to other key attractions of the area, including the idyllic Shell Beach and its superb Shellona restaurant; the lively port, with its tranquil alleyways and romantic, sophisticated boutiques; and the natural sea pools of Grand Fond and Petit-Cul de Sac. Guests can also enjoy the renowned Fouquet's restaurant, which has made the journey from Paris to offer guests the delicious and exciting cuisine created by 3-star Michelin Chef Pierre Gagnaire.
Guests can register for the St. Barth Photo Festival opening events at www.sbhartweek.com. Following the opening, exhibitions are accessible free of charge to the public and a selection of featured artworks will be available for purchase online. For more info, visit www.hotelsbarriere.com/en/saint-barth/le-carl-gustaf.html.