(Pictured above, Kansas City International Airport, drone photo courtesy of Jeff Roberts of JLR Photography)
by Jeanne Brei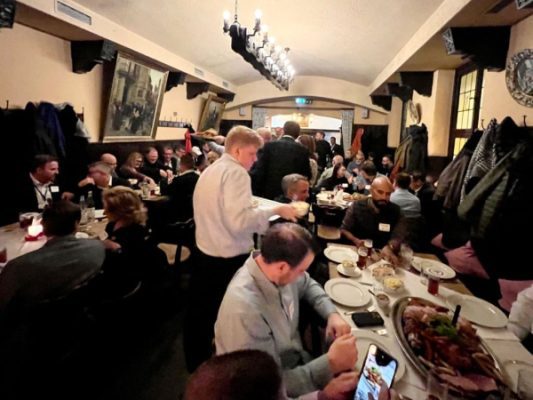 It's been quite a busy week as February wrapped up—including EuroShop – The World´s No. 1 Retail Trade Fair in Düsseldorf, Germany (pictured left is the EDPA PubCrawl, photo credit Chris Griffin); ASD Market Week in Las Vegas which brings the world's widest variety of retail merchandise together in one efficient shopping experience for 40,000+ attendees; the Cleveland Auto Show at the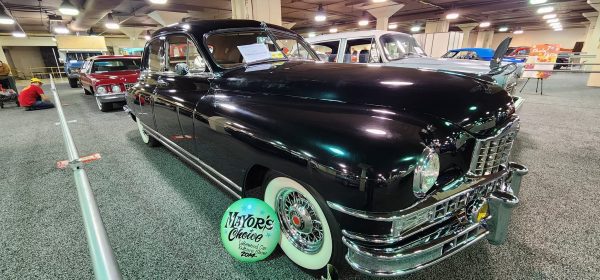 International Exposition Center (pictured right, photo credit Evelio Alfonso); and the 18,000 attendees for the Hawkeye Farm Show in Iowa, among many, many tradeshows and conferences finally back to full speed. Last month, the January Apparel & Accessories Market, the largest U.S. marketplace for women's apparel, accessories and footwear, held at the Dallas Market Center, broke both buyer and exhibitor participation records and CES 2023 in Las Vegas saw 2 million-plus square feet of exhibit displays and attendance topping 115,000.
On the trade show floor, the buzz is that the Orange County Convention Center announced they are partnering with ESCA (Exhibition Services & Contractors Association) to implement its national Worker Identification & Security Program, The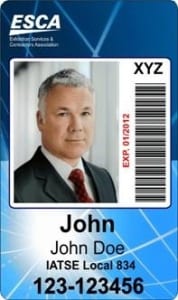 ESCA Badge—which allows entry into participating facilities by the workers who have been registered with the program—for all vendor and contract staff.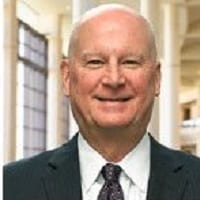 Nationwide, 20 venues are part of the program, and the list is growing each year. As OCCC Executive Director Mark Tester (pictured right) explains, "The OCCC continues to prioritize the safety and security of our employees, customers, and service contractors. We are confident that this partnership will further assist the Center in delivering a safe and secure experience for all of our contractors, suppliers and vendors."

Larry Arnaudet (pictured left), ESCA's executive director adds, "We are excited to bring The ESCA Badge to the OCCC. This rollout will allow for additional security measures at the convention center and increased consistency and ease of use for the 19,000+ event industry personnel already registered in the ESCA Badge program."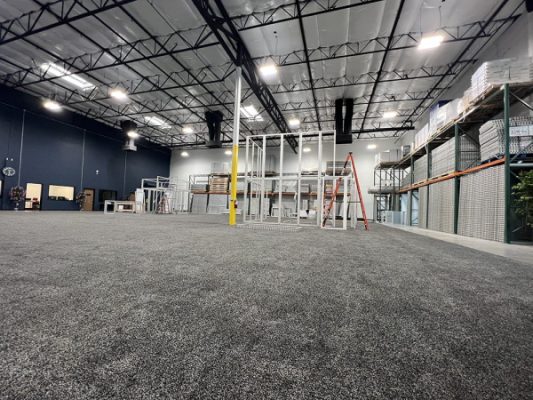 And for more tradeshow floor buzz, Crew XP announced a $5 million dollar investment in their Las Vegas operations. Headquartered in Las Vegas, Crew XP's new 33,000-square-foot, state-of-the-art facility (pictured right) is just 10 minutes from The Las Vegas Convention Center, The Venetian Expo Center, and The Mandalay Bay Convention Center and features advanced audio-visual systems, a spacious pull & prep floor footprint, woodworking and milling spaces, and an on-demand rental inventory of exhibit properties, including 100+ custom counters and more than 5,000 pre-engineered aluminum frames.
In other association news, the Exhibitions & Conferences Alliance (ECA) announced that the Professional Convention Management Association has joined ECA as their 10th alliance partner.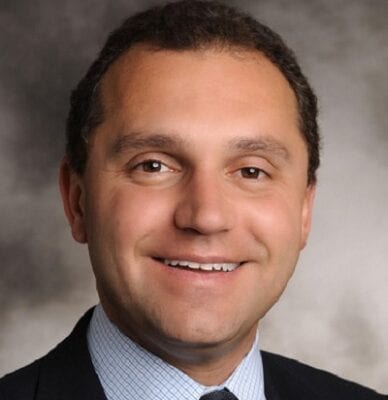 Hervé Sedky (pictured left), chair of the ECA board of directors, says, "I'm delighted to welcome PCMA and its community of business events strategists to ECA, which will help the alliance further amplify its important advocacy message to the decision makers that matter."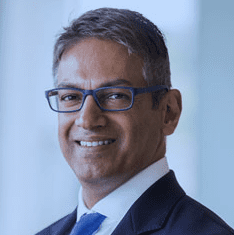 Sherrif Karamat (pictured right), CAE, President and CEO, PCMA and the Corporate Event Marketing Association, explains, "We know that if we expect our industry to transform, we need to lead that transformation, and ECA provides a critical platform to do so."
And for those flying through the Midwest despite a seemingly unending stream of major storms, starting February 28, air travelers going through Kansas City will get to experience a new 1-million-square-foot $1.5 billion terminal that replaces two smaller, older terminals.
The new terminal (pictured left) has high wood ceilings that allow for plenty of natural light and features 39 gates, 16 lanes at the security checkpoint, and larger baggage areas. Its new amenities include open seating and waiting areas, art installations, a meditation room, multi-sensory relief room, and both traditional and non-gender specific restrooms. It's also been designed to allow for branded welcome experiences for incoming attendees of meetings and conventions.
The terminal's retail and F&B outlets are mostly local brands for a more authentic Kansas City experience, and almost half of the outlets are designated as women- or minority-owned businesses. Click here for a YouTube virtual tour of the new terminal.