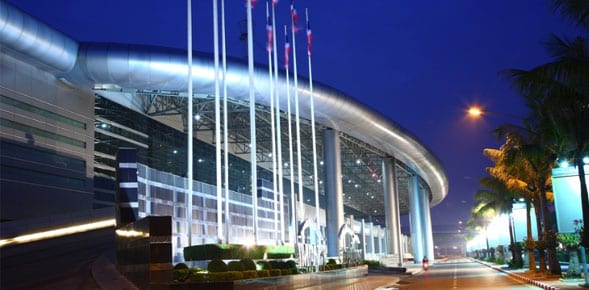 At right, The Thailand Exhibition Center
Thailand's meetings and exhibitions industry has been working vigorously to grow the country's trade show and event market, and officials say the spate of bombings across Thailand recently will not impede that progress. Eleven small explosions were detonated in tourist zones in August, though official reports have yet to cast blame on the culprits. Nonetheless, officials say security has been strengthened around areas that could be potential targets, and the Thailand Convention & Exhibition Bureau released an announcement saying the incidents were not affecting the meetings industry.
"Events venues and activities as well as businesses in Bangkok and other provinces are not affected and continue as usual," the statement said. "There is an increased security presence at all major attractions and shopping areas as well as in airports and train stations, to ensure the safety of business travelers and locals. All planned business events are still going ahead and international stakeholders are advised that Thailand's MICE industry continues to operate as normal."
Upcoming events include World Tourism Day and The ASEAN Conference on MICE in Bangkok in late September as well as a full docket of conventions planned in Bangkok throughout the rest of the year.
Police have suggested the bombings are the work of insurgents who have lost power rather than terrorists being led by forces outside of Thailand. Despite TCEB's "business as usual" assurance, world governments and travel authorities are cautioning would-be visitors to reconsider plans or be extra vigilant about safety if they go.