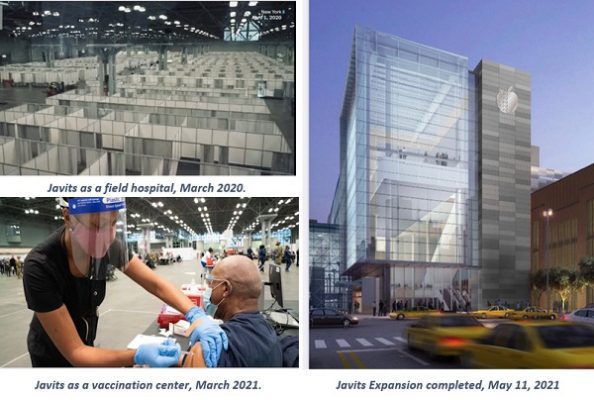 During the pandemic, the Jacob K. Javits Convention Center in New York City transformed into a field hospital, became a vaccination center, completed a 1.5 billion dollar expansion and, most recently, re-opened for convention business.
In the U.S., during the spring of 2020, New York City was the center of the COVID-19 pandemic. A lock-down order was issued March 22. The following day, work began on transforming the Javits Center into a 3,000 bed field hospital; by March 28 the installation was complete. On April 11, New York State set a one-day record of 997 COVID deaths.  (The state was averaging more than 10,000 new cases a day, at a time when the entire country was averaging about 31,000 new cases daily).  The Javits later transitioned to "the largest vaccination site in the U.S." on January 13, 2021.  On March 6, they set a single day New York State record for the number of vaccinations: 13,342.  By the time the vaccination center closed its doors on July 9, more than 643,000 vaccines had been administered.
The new North Hall expansion was completed this year on May 11. It added 1.2 million sq.ft. of total event space, and includes 90,000 sq.ft. of prime exhibit space (cementing 500,000 sq.ft. on one level). The expansion is expected to create 6,000 permanent jobs, an additional 200,000 room nights a year, and generate an additional $400 million in annual economic activity for NYC.  A one-acre rooftop farm, projected to yield up to 40,000 pounds of produce annually, has been created; and a 3,000 panel solar farm is under construction.
The first show back, NY NOW, opened August 8. It is the first of 40+ events scheduled to take place at the Javits before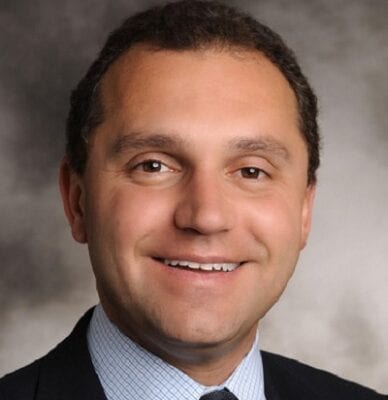 the end of the year.
Herve Sedky (pictured right). president, CEO and director at Emerald Expositions, says, "There is simply no substitute for live gatherings, and we are determined to provide them—safely and securely. Our team is dedicated to providing opportunities to reconnect and drive business."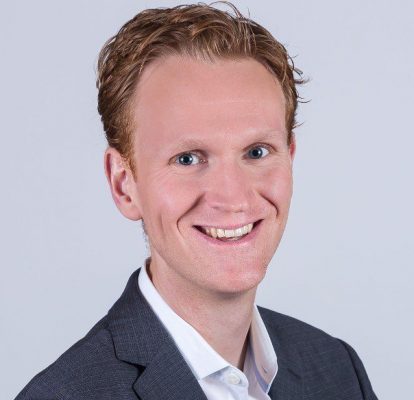 Tradeshows are critical to a local economy, but are even more important to the businesses exhibiting at them. "Virtual events are no substitute for in-person events," says Tim Hart (pictured left), senior VP, Retail Group at Emerald Expositions. "It's very, very important that we come together so our customers can buy and sell. They need these face-to-face events to come together and do business."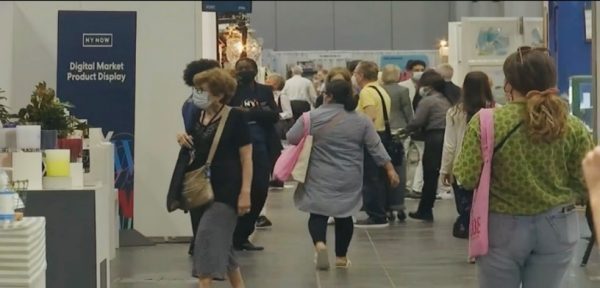 It is great to see exhibitors and attendees excited, and back on the show floor in New York (pictured right, a NY Now aisle).
Future shows scheduled this year at the Javits include: Armory, MAGIC New York, International Franchise, PhotoPlus, Interphex, NY Comic-Con, Jewelry, Light Fair, Cannabis Business, Pri-Med, NYSCC Suppliers, Furniture, BDNY, Hotel, ISC East, Greater NY Dental, MD&M East, East Pack and Plastec.

Bob McGlincy is director, business management at Willwork Global Event Services.  Willwork creates engaging, energized, and exceptional event experiences. He can be contacted at Bob.McGlincy@willwork.com