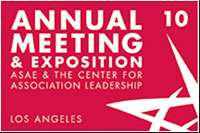 It turns out that the ASAE Food and Wine Classic, one of the popular events held each year at the ASAE annual meeting, is not just red and white, as the wine selection suggests, it's also green.
At the recent ASAE annual meeting in Los Angeles, Calif., Scott Lindley, vice president of development for the Convene Green Alliance (CGA), joined Carylann Assante, vice president of development for the ASAE Foundation and Kathryn Wakefield, director of client services for Tourism Toronto to discuss this unique green meeting program in a session entitled, "The Business of Meetings: Behind the Scenes of Events, Greening Tales to be Told."


Lindley framed the discussion by disproving some of the common myths about green meetings, including perceptions that green meetings are a hassle, expensive or reduce the quality of the meeting experience.
He cited one association that saved $150,000 by not printing its conference proceedings. While the group received a few complaints, attendees strongly approved of the move when they were told of the environmental and economic impact of the move.
Audience members weighed in with similar stories demonstrating how certain meeting elements changed in an effort to be environmentally sustainable are almost always welcomed with open arms. Examples included using recycled eating utensils, paper badges instead of plastic badge holders and setting up water stations to replace the need for plastic water bottles.
Assante recounted the four-year history of the ASAE Food and Wine Classic and explained how the event has been enhanced during the past two years by making it a powerful example of a green event.
In Toronto, the event was held in an area known as The Distillery, which featured brick walkways and a collection of interesting shops and restaurants developed from what was formerly an area used to film many Hollywood movies.
"Everything that was consumed was all biodegradable," said Wakefield. "We had to create an environment that allowed us to create a zero waste event."
Recycling bins were used throughout the event, and up-front training with the catering company and other suppliers ensured that the waste stream was not contaminated by non-recyclable materials. Because of the brick walkways, wine glasses were not allowed, but plastic wine glasses made from recycled plastic were used instead.
Instead of extensive signage, Assante and her team at ASAE came up with the idea of using wine charms that drove attendees to explore the entire area and collect the charms to wear on bracelets. This created a strong positive buzz as attendees talked about the charms and helped each other collect them.
At the 2010 ASAE meeting in L.A., Assante continued the tradition of partnering with a nonprofit organization in the city to host the event, this time at the California Science Center, which is one of the greenest facilities in the city. She noted that these partnerships, which benefit these local organizations, complement the goal of fundraising for the ASAE Foundation.
Special efforts were made in L.A. to produce only enough food for the size of the event, eliminating what can often be a large amount of food waste.
Marketing for the event was primarily done electronically, minimizing the amount of paper required. Assante forged partnerships with local restaurants, chefs, and wineries to offer an interesting and diverse fare that was also green because it featured food from local sources. The wineries that participated also have strong records of environmental sustainability.
Assante used creative web-based approaches to publicize the restaurants, chefs and wineries reducing the need for printed promotional materials.
"Everything we do for the Food and Wine Classic is very purposeful to support our goals of building community, fundraising, sharing the best of what our industry has to offer, supporting our sponsors, and demonstrating creative ways to be green," said Assante.
Also according to Assante, each year is a learning experience, and she hopes that by talking honestly about the successes and challenges, future ASAE events and the events of attendees who participate can be improved.
In closing, Lindley reviewed the key factors in developing green events, including setting the right policy, getting a broad buy-in, finding the right partners, marketing the event, and measuring the success of the event.
For example, he noted that CVB's, nonprofits and government agencies are often logical partners. He added that meeting contracts should include specific expectations for green performance to ensure that green events meet their objectives. One example is to specify that meeting rooms be maintained at a certain minimum temperature, such as 72 degrees, to save on energy usage.
Lindley added that events don't have to accomplish all their green goals in the first year, he encouraged attendees to take an incremental approach that allows events to become greener each year as new ideas and best practices are introduced.