By Jeanne Brei
When three out of four suppliers tell you that your vision can't be done, well, sometimes it just makes you more determined. That's what happened when Zig Zibit approached vendors with their design concepts to fulfill their client's objectives.
Durham, N.C.-based Zig Zibit has been working with Fujifilm Diosynth Biotechnologies (FDB) which has offices in Morrisville, N.C., Denmark, the U.K. and Texas, for 15 years and they understand how their client is always innovating in their brand and how they always want to bring something new and unique to the tradeshow floor. FDB is an organization that helps other companies that are in the process of developing their therapeutics to bring to the clinic and subsequently to the market. The client wanted a booth that was vibrant and had a different approach than the standard booth. Liza Rivera, senior director of global marketing at FDB, explains, "Our goal is to be partners for life. We are looking to advance tomorrow's medicines—that's our core purpose. We wanted to have something that reflected that. When we started working with Zig Zibit and our various partners in developing this booth—that was at the forefront of the thought process—we want something that shows that we're dynamic,  we want something that shows what we do and puts the message out there but at the same time is innovative and is fresh and shows exactly who we are as an organization."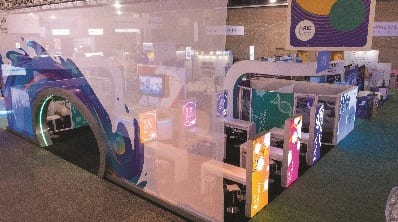 Zig Zibit's design gave FDB's marketing and creative teams the ability to be innovative which excited them because their company's culture is to be innovative. But when Zig Zibit looked for ways to bring the creative vision to life, there were two main technical challenges.
The first was delivering a 20-foot tall motion projection from 20 feet away onto a 50-foot wide screen in a fully-illuminated tradeshow floor. The team at NMR Events jumped into the collaborative process and help guide content decisions and ultimately delivered a perfectly tailored technical solution.
When presented with the second challenge, all the suppliers Zig Zibit approached said it had never been done and only one said it could be done.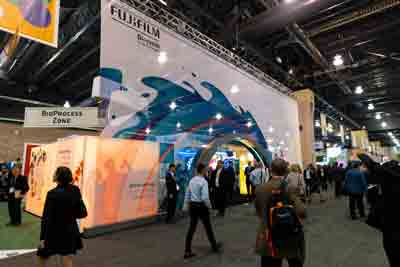 It was Chicago-area based Moss, Inc., that jumped at the chance to be innovative. The vision was for vibrant color-changing fabric walls with graphics presenting at variable levels of opacity. The team at Moss experimented with different fabrics and new production methods while the Zig Zibit team refined the DMX controlled lighting set-up to find a balance that successfully created the desired experience.
At final installation, when attendees walked up to the FDB booth, not only were the walls changing color, there were massive videos of people in vibrant silhouettes moving through a sheer screen— creating a very dynamic and impressively unique booth at the BIO International Conference 2019 held in Philadelphia last month.
Rivera says, "If you walk around and see the different elements of this booth: we have clear messaging, we have beautiful spaces that allow us to do what we came to this event to do—which is partnering, meeting rooms, partnering spaces for our commercial team. We wanted to make sure that we are also true to the mission for this event, which is to partner and have meetings and do business development—this is a most important event for us. And that was achieved with the design."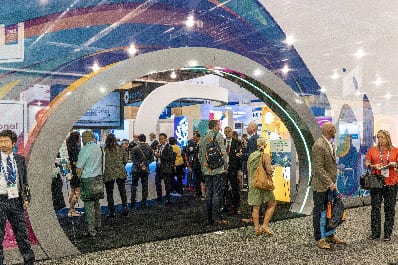 Zig Zibit Marketing Director Clint Allen, Key Account Manager Margie Horner and Estimating/Traveling Supervisor Cliff Sharp described how the collaboration worked to achieve that design. "Phosworks in Sweden created the video content with live actors doing work in silhouette and RDW Creative, which is located in Eagles Cliff, U.K., did the creative graphics. We collaborated globally and we were making something real that was living in a creative designer's head that most said had never been done."
Riviera loved the booth so much that she made a testimonial video that can be seen at https://youtu.be/9Ep9iVIimhI. In it, she says, "if you walk around the booth, you'll see that we have panels that are changing colors. Those panels not only look so cool and it stands out, but it also reflects change in a positive way, it reflects the adoption of innovation—we're doing things we've not done before—and it has vibrancy and it has that Japanese word that we use and is one of our core values, "genki," which means passion and enthusiasm. I don't think anything else could reflect the "genki," the enthusiasm and the passion that we feel as this booth has done.
She continues, "And then the grand finale is this beautiful wall that opens up to the booth and is absolutely stunning and beautiful with video that again has motion and delivers the message to the people walking in the aisles of what we do in a very innovative and interesting way. This wall was designed with a wave kind of effect to bring in the colors but also to bring in some of the Japanese elements of our parent company. There's a very famous Japanese painting from the 1800s called the Great Wave off Kanagawa—and this beautiful wall design is our interpretation of that. We did want to bring a Japanese element to reflect and honor our parent company, Fujifilm in Tokyo. As you walk the booth and see the different elements of the design, you'll see it just accomplishes absolutely everything that we were looking to do: meeting space, striking, innovative, stand out, bring our Japanese elements to it … I couldn't have asked for anything better. I am so pleased and this, if I may say, is probably the best booth in this show."
Client: Fujifilm Diosynth Biotechnologies (Morrisville, N.C.)
Show BIO International Conference 2019, June 3-6, Philadelphia, PA
Client team: Andy Fenny, Anitra Johnson, Emily Longstaff, Liza Rivera, Sabrina Borges
Production Design: Zig Zibit
Exhibit Design: Zig Zibit
I&D: Nth Degree
Digital Production: Phosworks, Inc. (Stockholm, Sweden)
Graphic Design: RDW Creative (Eagles Cliff, U.K.)
Fabric Graphics: Moss, Inc
AV: NMR Events
Photography: Zig Zibit
This story originally appeared in the July/August issue of Exhibit City News, p. 50. For original layout, visit https://issuu.com/exhibitcitynews/docs/ecnflipbook_julyaugust_2019_web