"Selffees" Are Millennial-Inspired Giveaways
 by Haley Wilson Freeman
This is it — the answer to your tradeshow marketing angst: edible selfies. It's your face, or that of several thousand of your potential new customers, printed on the edible items of your choice.
Think about it. Nobody wants to spend their precious marketing dollars on worthless tchotchkes that get lost in the bottom of swag bags or thrown away as soon as showgoers step away from the booth. And everyone wants to wow potential customers with something they value while maximizing the number of brand impressions created. It would also be great to give potential customers something they can actually use and enjoy. Because nobody's logo looks sexy in a landfill.
But it does look sexy on food. Meet Farsh Kanji, co-founder of Selffee. He and his enterprising cohorts were looking to create a fresh business concept that included things Millennials crave. That meant their business-forward idea somehow had to bring smartphones, social media and food together with the Millennials' favorite pastime: taking selfies. After seeing a face printed on a cake, it was a short leap to modify the concept for the events industry.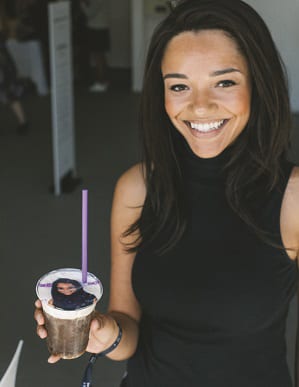 Kanji and his team developed both software and hardware that make it possible to take a selfie and then print the image on food items using edible dyes, right in the show booth. Their first idea was to print on coffee foam or whipped cream, thus the company's name, a hybrid of the words "selfie" and "coffee."
"Our machine uses edible ink to print directly on food and beverages," Kanji explained. "We don't use any sugar paper — which is old technology — so our process doesn't alter the taste or texture of the food. We specifically made our software work for crowds and events, and we developed it for that."
If lattes or cookies aren't your thing, how about selfie marshmallows? Selfie popsicles? Selfie cocktails? "Since we're in the experiential marketing niche, we continue to roll out new products to keep the idea fresh. We always want to be cutting edge," says Kanji.
Recently, a client asked to print selfies on top of foaming glasses of Guinness beer. Selffee was happy to accommodate. "A lot of clients will have ideas for us, and with a little lead time, we can do the R&D required to create what they want. The Guinness worked out great, and now we can offer it to anybody."
This isn't just a gimmick. Kanji and his team are savvy marketers who designed their product to power your brand at the show and on the internet. "We've found that it's a very enticing product to have in your booth. It attracts people and keeps them there, so your number of badge scans goes up.
"People don't just take this product home and throw it in the garbage," Kanji continues. "Once they get their photo on something, the first thing they do is take a selfie with it, and then they get the pleasure of putting it up on social media. Then they eat or drink it. The cookie is our most popular product, and it becomes a takeaway. People love to show them to their friends and family. I think drinks have the biggest 'wow' factor, but they have to be consumed there."
Selffee has also supported brand activations for large clients, with winning results. "We get them more digital impressions because their image is being photographed so many times, and it keeps showing up in all the hashtags. It creates more social media push organically. You don't have to push your guests to post the images."
So, we know that Millennials are taking lots of selfies and posting to social media, but what about everyone else? It turns out Millennials aren't the only ones who are influenced by social media or making regular use of it in their personal and business lives. A recent study conducted by Yes Lifecycle Marketing and reported by Retail Dive stated that buying decisions of the next generation, Gen Z, are even more influenced by social media than are their predecessors. And while more than 80 percent of Gen Zers (or Centennials) and 74 percent of Millennials are influenced by social media to buy, older generations are surprisingly close behind, with numbers at 58 percent for Generation X and 41 percent for Baby Boomers. Each generation has its preferred social media platforms, and Selffee is a powerful tool for maximizing brand impressions across all of them.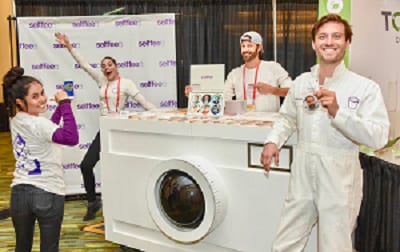 Selffee now has teams operating in seven U.S. cities, with a few more slated to launch before the end of the year. The company also recently expanded into Canada and is actively reaching into markets abroad.
If you feel you must have edible selfies at your next event anywhere in the country (and of course you do), you can. Simply visit  https://selff.ee and go to the "Book Us" tab to request a quote. You can also find them on Facebook, Twitter and Instagram.
Food giveaways are always a draw at a tradeshow or conference. But once word gets out that you can have your image printed on something yummy, everybody will want a shot at breaking the internet with their face.
Kanji sums up, "Driving reach and impressions, this is what all event planners are trying to accomplish. This is a powerful tool for communicating your brand. It says, 'Hey, we're up-to-speed on things. Check out what we're doing!' "
Selffee is located in New York, New York with teams operating in seven U.S. cities and Canada. For more info, visit www.Selff.ee or email them at sales@selff.ee.
This story originally appeared in the September/October issue of Exhibit City News, p. 62-63. For more pictures and original layout, visit http://issuu.com/exhibitcitynews/docs/ecnflipbook_septemberoctober_2018_o?e=16962537/64174552