UFI, the global association of the exhibition industry, has had a consistently growing demand for a professional endorsement for those who complete their educational programs. In response, they have created a new educational pathway they are excited to announce the launch of a new UFI-accredited qualification: the UFI Certified Professional, or UCP.
This UCP designation consists of two sections: the foundation programs and the specialization modules. The foundation programs consist of UFI's most popular existing educational offerings, the Exhibition Management School and the Venue Management School The specialization modules are more specific, topical offerings that allow participants to tailor the UCP experience to their area of expertise or interest.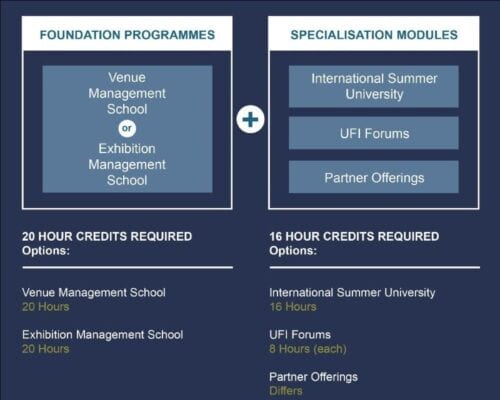 The foundation programs and select specialization modules are offered directly by UFI. For the specialization programs, UFI is partnering with education providers all across the globe.
With these partnerships, they can offer tailored education experiences that make the UCP so effective. To maintain the high standard UFI has set for education in the exhibition industry, all UCP partners are qualified and approved by the UFI Executive Committee.
An initial group of three educational partners have been selected for the program: MBB-Consulting Group (U.K.), Virtual Events Institute (U.S.) and Rego (U.K.).
The UCP is available to every exhibition industry professional. UFI members benefit from preferential rates. To get in touch with their team, email education@ufi.org
UFI is the global trade association of the world's tradeshow organizers and exhibition center operators, as well as the major national and international exhibition associations, and selected partners of the exhibition industry. UFI's main goal is to represent, promote and support the business interests of its members and the exhibition industry. UFI directly represents more than 50,000 exhibition industry employees globally, and also works closely with its 60 national and regional association members. More than 800 member organizations in 83 countries around the world are presently signed up as members. Around 1,000 international trade fairs proudly bear the UFI approved label, a quality guarantee for visitors and exhibitors alike. UFI members continue to provide the international business community with a unique marketing media aimed at developing outstanding face-to-face business opportunities. For more info, visit www.ufi.org or call +33 (0)1 46 39 75 00.