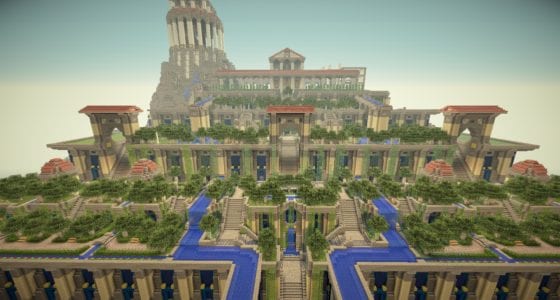 History says that King Nebuchadnezzar II, who ruled the city of Babylon for 43 years beginning in 605 BC, constructed fantastic gardens to soothe his young bride. Amyitis left her home in the verdant and mountainous region of Media to seal an alliance between her father and Nebuchadnezzar. To recreate the beauty of her homeland in the harsh desert region of Babylonia, Nebuchadnezzar constructed an artificial mountain of magnificent terraced gardens (above) that have endured in human memory as one of the Seven Wonders of the Ancient World.
Just as denizens of the ancient world were surprised by an unexpected Eden rising from the desert, visitors to many contemporary convention and meetings venues are delighted to find that rooftop gardens have been incorporated into their construction. These green spaces provide sustainable food sources, healthy habitats for wildlife and outdoor event venues.
The Anaheim Convention Center is the largest convention center on the West Coast and was just awarded LEED Gold certification in 2016. As part of its ongoing commitment to sustainability, the ACC utilized a $120,000 federal grant to construct a 2,000-square-foot herb garden atop its box office roof. The grant provided the means to reinforce the roof, build planter boxes and install an irrigation system and indigenous ground cover. The ACC's kitchen makes regular use of these sustainably-sourced edibles in the delicious recipes served to guests.
The David L. Lawrence Convention Center in Pittsburgh is the world's only convention center with both a LEED Gold certification in new construction and a LEED Platinum certification in existing building. The Center's motto is "Built Green, Working Green, Everyday!" It is no surprise, then, that the Center installed a rooftop garden with 40 planter boxes in 2011. The garden supplies catering vendor Levy Restaurants with organically grown produce. Seeds are harvested each year and cultivated in organic compost generated by the facility. The wide variety of seasonal plants include both medical and edible plants native to Southwestern Pennsylvania, and they support an array of wildlife including Monarch butterflies, pollinators and birds.
In 1938, architect Frank Lloyd Wright conceived a design for a striking civic complex on the shore of Lake Monona in Madison, Wisconsin. The press soon dubbed it the "Dream Civic Center." The original, curvilinear design included an auditorium, rail depot, marina, courthouse and city hall. It took 59 years for his vision to be realized, and today, Monona Terrace is a fitting tribute to Wright's genius for organic design. Previously certified LEED Silver, the building achieved Gold certification in 2015.
The facility's William T. Evjue Rooftop Garden is a beautiful spot to enjoy panoramic views of Lake Monona to the south and the state Capitol building to the north. In keeping with Wright's signature integration of architecture with nature, indigenous plants and trees have been incorporated throughout. The Rooftop Garden is home to a free exhibit of public sculpture, an outdoor pilot project begun in 2014 to bring visitors to the garden. Concert series are performed there each summer, and the space is available for events when weather is favorable.
No doubt Wright would have been gratified to see that not only has his Monona design come to life, but that his passion for organic architecture has become so widely revered and implemented in monumental structures.
Green Quote:
"Study nature, love nature, stay close to nature. It will never fail you." – Frank Lloyd Wright