Under construction in the Fremont East Entertainment District in Downtown Las Vegas, The Venue Las Vegas, a multi-million dollar 38,430-square-foot special event facility, is expected to open this spring.
"The Venue Las Vegas is a welcomed addition to Downtown, and we're looking forward to it opening," said Tony Hsieh, CEO and founder, Downtown Project. "We are excited to see individuals like Victor Perrillo taking an interest in Downtown Las Vegas, and seeing the potential in bringing new and diverse business opportunities to our growing neighborhood."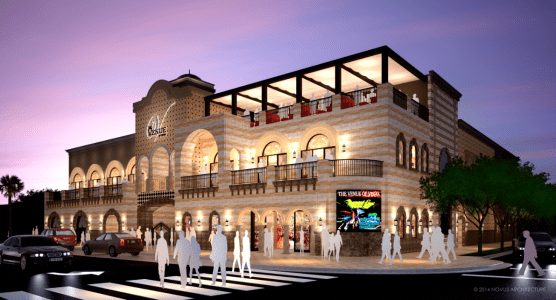 The Venue Las Vegas is the second special event facility for Perrillo, founder and CEO of The Venues Group, which also includes The Venue Scottsdale, which opened in 2006.
"Opening The Venue Las Vegas has been a longtime goal of mine, and I am excited that the time is finally here," said Perrillo. "As a company, we are at an exciting milestone, expanding our offerings and locations."
Noticing an untapped opportunity in the downtown area, Perrillo broke ground on The Venue Las Vegas during summer 2014. His vision of developing a premier location for special events, meetings, weddings, conferences and live entertainment is the driving force behind The Venue Las Vegas, which is estimated to create approximately 200 new jobs.
"Bringing corporate and special events to Downtown Las Vegas is a boon for all downtown businesses," said Jeff Victor, president, Fremont Street Experience. "I'm excited for the opening of The Venue Las Vegas."
With drywall closing off this week and the start of interior painting next week, the facility's plans include a main floor ballroom with a built-in stage, a first level lounge and bar that will be open to the public, a second level with three multifunctional event spaces and outdoor patio, and a rooftop lounge and bar that overlooks Downtown Las Vegas.
"The soon-to-be-completed construction of The Venue Las Vegas marks a new era," Perrillo said. "We're giving brides, event planners and destination management companies even more options to consider for their lavish private events by bringing our full-service capabilities to the heart of Downtown Las Vegas."
Showcasing urban chic décor and rustic charm with a modern twist, The Venue Las Vegas will bring an old world Tuscan feel to the hip, contemporary landscape of downtown.
To book an event at The Venue Las Vegas for spring 2015, visit www.thevenuelasvegas.com.