Australia has a long and proud history of successfully delivering large-scale international events and exhibitions, and is well prepared for all manner of bookings thanks to its plethora of diverse and unique venues. With spectacular destinations, unique experiences, an innovative culture, world-class business facilities and excellent global travel connections, Australia is a welcoming and inspiring destination for all events.

Brisbane Convention & Exhibition Centre
Nestled within Brisbane's riverside cultural precinct of South Bank, the $340 million Brisbane Convention & Exhibition Centre (BCEC) offers a blend of unmatched flexibility and capacity, superior facilities, superb technical
production, succulent menus full of local produce and exemplary service delivered in a relaxed and efficient manner.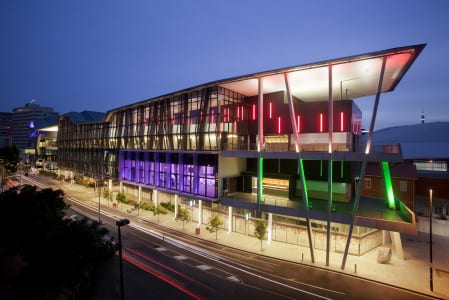 Key features include 172,000 square meters covering 44 meeting rooms and 20,000 square meters of exhibition floor for 35,000 people at capacity, three plenary auditoriums, a dedicated event hub for meetings of six to 600 delegates, permanent art gallery plus two restaurant and bar outlets.
To date, BCEC has hosted around 15,000 events and has an impeccable track record in the successful hosting of large scale complex events, including being the official host venue for the world's most significant business event, the 2014 G20 Leaders Summit in November.
International Convention Centre
Additionally, Sydney's Darling Harbour is undergoing a major transformation with the development of a new state-of-the-art, fully-integrated international convention, exhibition and entertainment precinct. Due for completion in late 2016, the International Convention Centre (ICC) Sydney is a 20-hectare development that will include Australia's largest convention and exhibition facilities, capable of holding multiple, large-scale events simultaneously.
The new venue will feature a striking, contemporary design; the latest technology throughout; and world-class, flexible meeting spaces to cater for the changing architecture of events. Some key features of the new convention center include 40,000 square meters of exhibition space, more than 40 multi-use meeting rooms of various sizes, plenary space for 12,000 people, Sydney's largest ballroom and a 5,000 square-meter outdoor event deck. Business Events Sydney has already secured 11 international events for the venue worth $55 million to the state economy.
"We're thrilled with our global clients' response to ICC Sydney. To have 11 events secured, about 30 months out from opening, is such a strong sign of confidence and trust in Sydney's ability to deliver world-class events and infrastructure," said Lyn Lewis-Smith, CEO, BESydney.
The BCEC and new build ICC Sydney are managed by AEG Ogden, a leading venue management company in the Asia Pacific Region, and as a result can work together on any multi-state requirements from events, conferences and exhibitions.
There is a dedicated service on offer to parties interested in bringing an event to Australia. Business Events Australia is the specialist unit within Tourism Australia, and, as an Australian Government organization, can provide the information and support needed if Australia is a desired location for a business event.
Business Events Australia exhibits at several international tradeshows throughout the year, along with industry such as BCEC and ICC Sydney, and it's worthwhile meeting the staff in attendance to find out more about Australia's business event capabilities. Business Event Australia also runs a series of information sessions in-market and familiarization visits to Australia to provide information and valuable insights. It also has people on the ground in key international markets for improved communication with any inquiring parties.
For more information, visit www.australia.com/businessevents/how-we-can-help/find-your-local-contact.aspx.