Tweet

Due to unpredictable customs officers and varying degrees of corruption in some tradeshow destinations, the international shipping process could become fraught with difficulty.
To ensure a smoother scenario, U.S. freight forwarders specializing in event logistics like AMR Group Inc. make it a priority to develop a global network filled with trusted partners who'll go above and beyond as customs brokers on their behalf.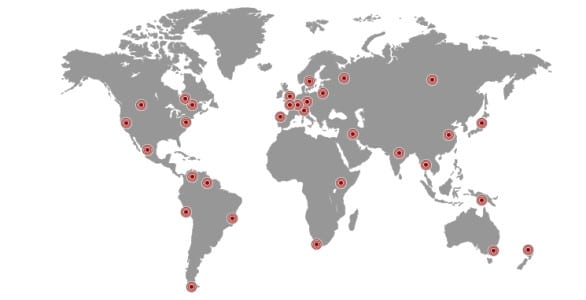 "It comes down to the agent you partner with and their familiarity with exhibitions. If you get a customs officer on bad day, it doesn't matter where you are; they are in control of you," explained Chris Ray, president, AMR Group. "We have good partners for what we are doing. They know everything in advance and won't risk the freight not getting delivered to the show."
After working in the transportation industry since 1994 and later founding AMR Group in 2011, Ray developed several 20-year partnerships with customs brokers in the UK, France, South Korea, Taiwan and Singapore, among others, but overall, his company delivers exhibits to more than 60 countries.
According to Ray, building global relationships is a must, especially when operating out of what he considered the more difficult countries to do business — Brazil, Russia and any country bordering Russia.
"Brazil is heavy with corruption and one of the most expensive places to do business. Due to the recent issues with [Vladimir] Putin, business shut down abruptly in Russia. Trying to pay Russian partners and getting paid is difficult because the banking system is difficult. You have to fully notarize each invoice. To overcome these issues, you need trustworthy partners or people you met face to face," stated Ray.
Prior to Russia's increased tensions with neighbor Ukraine affecting tradeshow operations, AMR Group operated 90 percent of the time in Moscow along with delivering to a few tradeshows in St. Petersburg. Consistently operating inside Russia didn't mean each freight delivery became easier; Ray stated problems persisted with corrupt customs officials and lengthy paperwork requirements.
"You may have to fill out a commercial invoice, packing list, power of attorney and another form and send it to your partner there. They send that to customs, and customs will say they need four new forms or that you forgot something on the form. It's constant back and forth and a long process. If your agent isn't working very closely with your customs officer, it will affect the shipment," he added.
As the past illustrates, working closely with customs officers is not a problem for AMR's partners. On many occasions, according to Ray, AMR's agents spent hours negotiating with customs officers who didn't understand the timeliness associated with freight going to tradeshows.
"Our partners went to customs offices in the middle of the night to get everything cleared. Multiple times over the years, we had to speak to high-level customs officials because it would have been a disaster if it didn't happen. This happens in countries all over the world, but the Middle East is a good example," he said.
During a delivery from an ocean vessel in Chile, the door jammed on a large steel shipping container filled with a client's tradeshow equipment. Not able to open the container, AMR's partners hired a welding company, spending a lot of money, according to Ray. Along with righting what goes wrong, these partners also ensure shipments go right.
"[The partners] handle the documentation. They work with customs officers to get the shipment through customs. They manage transportation from the airport to the show site, and they manage labor to get it delivered to the booth," he explained. "During the show, our partners have representatives from their company talk to the exhibiting company on site, and they have someone show up at the booth to make arrangements for outbound shipments. If it's not me there, it will be my partner in that country."
From how Ray described it, working overseas allows AMR and its partners to deliver more personalized customer service to its clients than they are able to deliver in the U.S.
"I find it easier to do work overseas. It is absolutely100 percent more personalized. We have more control. If I have a pallet or crate delivered to do work at a booth, I can walk up to a guy from South Korea and he'll be at my service. He'll let me use a pallet jack to do it myself, or he'll do it right away," Ray explained. "With general contractors [in the U.S.], you have to fill out a work order and go to the Exhibitor Services desk. The person there doesn't know what is going on, and then three or four hours later, the work gets done."
To further his international connections, Ray also joined International Exhibition Logistics Association (IELA), an association dedicated to international exhibition and event logistics.
"We get to meet with new agents and partners we never dealt with before. The IELA Congress is where we can sit down and have face time directly with members. We set up appointments in advance. We build up partnerships that way and generally by being a member," he added. "[IELA] has two congresses in one. The IELA Congress is for full members, and the [Partnering Event] is for non-members who can come for the same face time."
Taking place in Amsterdam at NH Grand Hotel Krasnapolsky, the 29th IELA Congress and General Assembly runs from June 28 to July 1, and its 3rd Partnering Event is from July 1-3.
For more information about AMR Group Inc., visit amrworldwide.com.