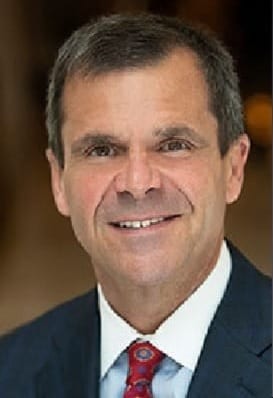 Stephen Caldeira (pictured right), the American Society of Association Executives board chair and president and CEO of the Household & Commercial Products Association, Washington, D.C., announced that Spencer Stuart, a global executive search firm will lead the search to hire ASAE's next president and CEO effective Sept. 1, 2021. Currently, Susan Robertson, CAE, is serving as president and CEO on an 18-month contract that will end August 31, 2021.
The search will be led by Leslie Hortum and Keri Lindsay. Hortum manages Spencer Stuart's Washington, D.C., office and is a member of the firm's education, nonprofit and government practice. Lindsay is based in the firm's global headquarters in Chicago, and is a member of the firm's consumer/hospitality & leisure practice. Ellen Pennow, a member of the firm's education, nonprofit and government practice based in Washington, D.C., will also assist in the search.
"After a thorough and extensive review process of many impressive firms, the search committee is excited to announce the selection of Spencer Stuart to lead the search for the next president and CEO. Both Leslie and Keri have a proven track record of identifying exceptional and diverse talent," Caldeira says. "The Spencer Stuart team has been constructed to ensure the most fulsome reach into the relevant market sectors, while placing a high priority on diversity, equity and inclusion," Caldeira adds.
"Spencer Stuart is thrilled and honored to have been selected to identify ASAE's next great leader and we fully recognize the importance of this search to ASAE—and the entire association community," Hortum says.
ASAE is a membership organization of more than 48,000 association executives and industry partners representing 7,400 organizations. Since it was established 100 years ago, its members have and continue to lead, manage and work in or partner with organizations in more than a dozen association management disciplines, from executive management to finance to technology. With the support of the ASAE Research Foundation, a separate nonprofit entity, ASAE is the premier source of learning, knowledge and future-oriented research for the association and nonprofit profession and provides resources, education, ideas and advocacy to enhance the power and performance of the association and nonprofit community. For more info, visit www.asaecenter.org. 
At Spencer Stuart, they know how much leadership matters. They are trusted by organizations around the world to help them make the senior-level leadership decisions that have a lasting impact on their enterprises. Through their executive search, board and leadership advisory services, they help build and enhance high-performing teams for select clients ranging from major multinationals to emerging companies to nonprofit institutions. Privately held since 1956, they focus on delivering knowledge, insight and results through the collaborative efforts of a team of experts—now spanning more than 60 offices, 30+ countries and more than 50 practice specialties. Boards and leaders consistently turn to Spencer Stuart to help address their evolving leadership needs in areas such as senior-level executive search, board recruitment, board effectiveness, succession planning, in-depth senior management assessment, employee engagement and many other facets of culture and organizational effectiveness. For more info, visit www.spencerstuart.com.