By: David Barten
I'm sitting with Axis deBruyn on this beautiful first day of September enjoying the cool San Diego breeze where he just opened the AAOS show for his client of 10 years, Arthrex Inc.  Sharing a passion for shows, I wanted to know more about the who what and where Axis developed his craft that led him to being one of the most sought after designers and lighting directors in the tradeshow industry as well Concert Touring having toured for clients including Foo Fighters, Fleetwood Mac, and Queen, among many in his portfolio.
The son of a photographer, growing up in the Bay Area Axis actually had his first paying job in high school keeping their theater operational, soon after graduating from Cal State Hayward and off on his first tour for Bone Thugs n Harmony. Breaking into tradeshows came fast lighting a Polaroid booth in 1995.  Working as a freelance lighting designer and Lighting Tech Axis handled state fairs, tradeshows, parties and an industry right of passage, a stint on the gun wielding Confunction Tour. Ask me how I know..
Moving to Las Vegas in 2001 with his wife Sarah O'Connell, a now prominent producer/director in the Las Vegas theater community, they started Axis Lights, which today handles the design and logistics for many production companies such as 4 Productions, PRG, and Show and Design Group.  Caterpillar, AstraZeneca, Adult Swim, and Qualcomm are some household names you might recognize that call Axis their designer.  These impressive accounts were cultivated by Axis'  focus on design and logistics, the most important aspects of any trade show program.  The latter being directly tied to costs and cost overrun.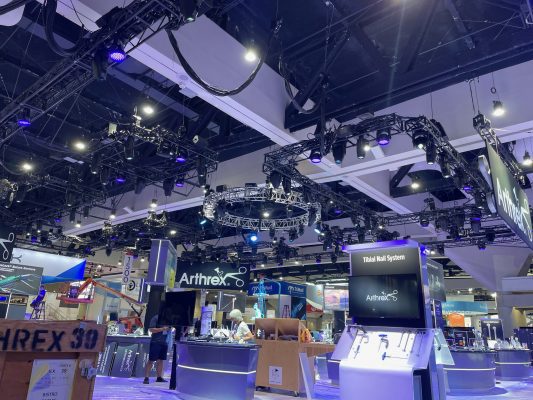 Today Axis finds himself relaxing around a 120' x 80' exhibit with well over 200 fixtures very finely focused.  That he is relaxing is a testament to his exceedingly well-detailed pre show logistics, planning and execution, which starts with building a book of paperwork outlining every detail of the project.  From there it moves into a week of testing every light, cable, connector, truss, and part that goes to the show.  Every light, cable, connector, truss, or accessory part also gets a computer printed label. This costs his client much less at shop rate than show floor rate on Saturday with union labor looking for answers and information.
Axis states his goal is to give the client "an attractive business environment where they can effectively showcase their products." He starts with 2D drawings roughing out the scope of work and getting budgets together.  Around three months out renderings come into play and he gives the exhibit a look applying specific fixtures and locations. Here at AAOS in Arthrex and like most of his projects, Axis uses a very sophisticated mix of automated lighting. When asked about this and client cost Axis said it just makes sense. "A moving light costs the same on Easter Sunday as a regular Weekday, they don't get overtime and they don't require a man lift or ladder." For this reason Arthrex was able to eliminate costly boom lift focusing and reallocated those considerable funds to exhibit development and more shows.
As large as this lighting rig is, the labor is very low considering the scope of work:
Booth Size: 120' x 80' all raised deck

Road Crew – Axis deBruyn Designer, Mike Kennedy Tech Director, Christian Cruz Master Electrician, Mike Salafia, Mike Nuguid, Alex Jones 2nd Electrics

Union Crew – 8 hands 12hr (this is incredible and shows planning value)

Truss – 970' of 30" PRG BAT (the lights ship and live in truss saving space and labor)

Lighting – 74 Robe BMFL Blades, 24 Robe BMFL Spots, 10 Robe Robin Pointes, 35 Mac Viper Profile 64 GLP X4XL, 16 GLP JDC1

Trucks – 3 each
Walking up to the Arthrex Booth you see an eye soothing beautiful display built by 3D Exhibits of Chicago.  None of the fixtures are in your eyes, nothing blinding you, everything is balanced and beautiful.  Your eyes are comfortably led to product displays, logos, and key exhibits.  The spotlights are shuttered and trimmed on displays in the exact color temperature Arthrex wishes their customers to see.  Easily controlled by Axis and his state of the art control systems, he walks the floor pointing out the features and benefits of the BMFL Blade being able to add frost without having to reset the shutters, a time saving feature.  His wall washes are very even and color matched perfectly yet there are so few, says Axis, "My go to wall wash is the JDC1, nothing spreads light wider or more even, I can use one instead of many." As we walk through the booth I'm constantly reminded by skilled mastery of his team in that you don't see any manifestation of lighting.  No lights in your eyes, no cables hanging down, no shadows. Soft glows of tightly faded radiance surround each pedestal leading your eye to the orthopedic products being shown at this event. Simply beautiful.
Whats next for Axis? Well, Axis won't be going to Disneyland now as he jets off to the east coast for his next show. All of this happening while he raises his two boys and shares a happy home life in a nice suburb surrounding Las Vegas.