by Ray Smith
If there was any looming doubt about tradeshows rebounding from the COVID pandemic, it was wiped out by ConExpo-Con/Agg 2023, which posted a record 139,000 attendance March 14 – 18 at Las Vegas Convention Center.
The largest construction equipment tradeshow in North America returned to Las Vegas in full force with about 2,400 exhibitors from 36 countries taking 3 million square feet of space, including the showcase parking lot visible to passersby along the front of the convention center.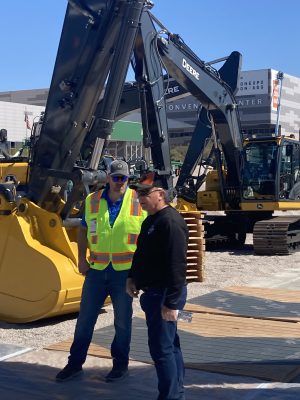 "Everybody is back attending tradeshows," says Bernie Massett of Experiential Marketing Specialists, contracted to help build the massive 70,000-square-foot display for John Deere and Wirtgen Group. "Somebody sent out a memo that everybody's going to shows again, and everybody has joined back in."
The Association of Equipment Manufacturers (AEM), organizers of the show, reported strong pre-registration numbers, and officials were excited about traffic on the convention center grounds.
"Leading up to the show, we were pacing right on track with our 2020 attendance numbers, which was just over 130,000, so we were extremely positive," AEM Vice President Dana Wuesthoff says. "We're extremely happy and obviously, just looking around, there are just so many people. It's busy all over the place."
One of the new features at ConExpo 2023 was the Community Zone, located outside in the festival lot, where people could sit down, connect with peers, network with suppliers and plan their booth visits.
"Live events in the construction industry are very important, because you can see, touch and experience the products," says Phil Kelliher, Caterpillar senior vice president and ConExpo show chair. "That value was reaffirmed this past week across the show floor."
The triennial event returns to Las Vegas March 3-7, 2026.