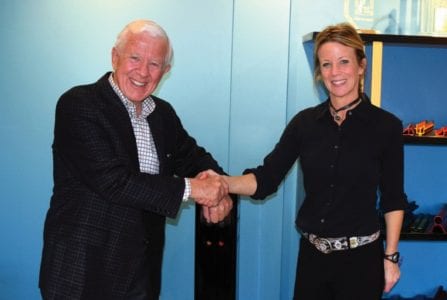 The dad-daughter duo of Mick and Debbie Parrott (at right) proves that the tradeshow industry can get into your blood. It all began in 1979 when Mick developed a deck and wall product and founded ICON Exhibits in Ft. Wayne, Indiana. A combination of market demand and wanting to grow the business beyond the ICON clientele led him to found Highmark TechSystems in the late '90s as a separate division within ICON and which became a separate legal entity in 2006. Fast forward ten years and daughter Debbie "took the plunge and, with the loan of a lifetime, purchased the company from my dad."
Says Debbie, "In grade school, I was the master filer for my dad, and I recall being in awe of incredible hand-sketched exhibit designs for everything from car companies to beer companies and then seeing them actually be built! I grew up in the business, admiring its creativity but also gaining an appreciation of business ownership through watching my dad who has always brought entrepreneurial drive, core business know-how, and immense integrity and determination to his work and his companies. As a kid, it was a cool business because you were creating something tangible and real." She adds, "But nobody goes to school to be in this industry. It's an odd, complex, and tough business. People work their tails off."
After growing up in Ft. Wayne, Debbie left for Bates College in Maine where she majored in English. She went into publishing and spent the next ten years in Boston working for the Harvard Business School Press. Transitioning from publishing, she went back to school for her MBA, studying marketing and entrepreneurship and moved to NYC to work as a management consultant and director of business development. After 9/11, her father asked her if she would start and run ICON's west coast office in San Francisco. She jumped at the opportunity and spent the next ten years in San Francisco. The company merged with California-based Delphi Productions in March 2009, and Mick became Chairman of the Board for both Group Delphi and Highmark TechSystems. In 2010 Debbie moved back to Ft. Wayne to head up sales for Group Delphi. Then, in 2014, she accepted the position of president at Highmark when her father asked her to run the business.
Her father told a reporter at the time, ""I am thrilled to have Debbie taking a leadership role in our company. She has the industry background and successful track record necessary to take the helm of Highmark TechSystems as our company continues to grow and expand its product offerings." As Debbie says, "My 13 years of marketing and business development experience in other industries and my MBA have both come in handy."
For more than 20 years, Highmark TechSystems has been the leading supplier and developer of advanced modular exhibit systems for exhibit designers and producers. Known for design versatility, lightweight, and ease-of-use, Highmark TechSystems product lines include a cost effective and elegant double deck, modular wall panel systems, and custom solutions made of special aluminum extrusions. Utilizing six different proprietary product lines and covering three different market segments, Highmark TechSystems redefines what modular exhibit components can do. ExpoWalls – modular wall panel technology, ExpoDecks – a structural multi-level modular architecture, and Elements– flexible extrusion system components, are among the most advanced exhibit systems products in the world. Highmark TechSystems manufactures and assembles the complete line in its Fort Wayne, Indiana plant. With manufacturing facilities strategically located in the Midwest, Highmark TechSystems extends logistic and economic advantages to customers, saving them time and money when shipping exhibit and display properties throughout the U.S.
And now Debbie's team is launching Highmark Outdoor which offers event producers a premium, modular outdoor deck system. This new outdoor deck—in a word, ExpoDeck reimagined for outdoor use—can be completely enclosed and is totally customizable. Like all Highmark products, the outdoor deck can be expanded to go up or go out. It is available in a variety of pre-engineered solutions or completely custom structures for almost any event. (Photo at right courtesy of Padgett Photography)
In addition to this new offering, Highmark has become the sole U.S. distributor for Berlin-based mo systeme. Event marketers now have access to this state of the art indoor-outdoor line, which includes products such as the MO5, a super mobile, brandable promotional counter on wheels featuring an adjustable canopy and lots of storage space. When fully unfolded, it stands 3.6 m—approximately 12 ft.–tall and is an eye-catching bar, mini-booth, or information kiosk. In less than a minute, the MO5 can be hauled away by hand to the next location.
The flagship product is the Modulbox, a 2.7m cubic exhibition enclosure that opens in the blink of an eye to become a 65 sqm open pavilion with brandable walls, roof, and floor. The Modulbox MAX is a larger version, big enough to house a car. All these products are conveniently mobile, incredibly sturdy, and easy to set up and tear down.
Modulbox was developed by two German architects who literally invented the entire category. Their offering of premium indoor and outdoor exhibition stands for face-to-face marketing activities such as road shows, fairs, and promotions has been a major success throughout Europe, South Africa, and Australia. Because Mo Systeme products are easy to brand, transport, and set up, they are perfect for temporary promotional activities. Although many companies have attempted to replicate these structures, Mo Systeme is still the market leader. And now these event solutions are available in the U.S. through Highmark.
Debbie says, "All Highmark-designed products are manufactured in-house at our Indiana facility. As we move outside (literally, outdoors) with a full range of solutions, we've identified a proven mobile product that is beautifully designed and engineered by an impressive pair of German architects. We are pleased to be able to offer these fine German products in the U.S. It's a great combination of German engineering and American ingenuity," adding that "Highmark's modular structures have always provided high-impact, customizable architecture. Highmark Outdoor is perfect for experiential marketing and brand activations, whether the event requires a totally enclosed or open multi-level pop-up, temporary building, or VIP suite. We now offer a structure to fit every need—indoor, outdoor, roadshows, or pop-up stores. We believe that experiences come in all shape and sizes—and the structures that support those experiences have to be flexible, easy to set-up, and super cool looking.
By extending our reach to the outdoor market and expanding our product offering, Highmark is truly building on the vision my father had in providing smart, modular, beautifully designed, flexible and re-useable solutions to the events space at large."
Since Highmark doesn't sell to end users, only to exhibit houses and event agencies, they decided to premiere their outdoor line at the Experiential Marketing Summit in Chicago this year in May. The show was an unqualified success, and Debbie says, "We've dipped our toe into the outdoor market and had an incredibly positive reception which gives us the extra drive to have these products commercially available as quickly as possible." With these new Highmark Outdoor solutions, flimsy stands and generic tents that can detract from an intended attendee experience will be a thing of the past. For more information, go to https://www.highmarktech.com/exhibit-products/highmark-outdoor/.