Dimension Design, a leading producer of branded environments for the event and exhibit industry, held a special event for its partners at its new production facility in Las Vegas on March 1 during the week of EXHIBITORLIVE, which took place March 1-5 at Mandalay Bay Convention Center.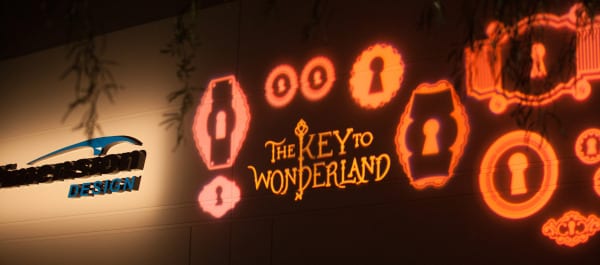 Themed "The Key to Wonderland Unlocks the Next Dimension" after the children's classic, "Alice in Wonderland," the open house allowed guests to experience the facility as part of a solutions-driven strategy to better service the company's partners. The expansion aligns with the company's overall growth plan to focus on new markets, including experiential marketing, corporate and sponsored events.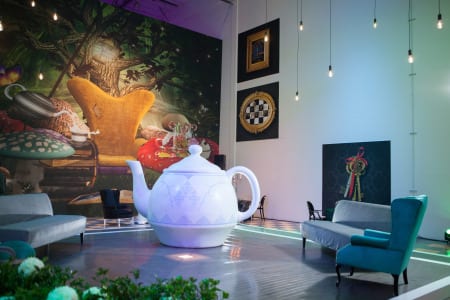 Inspired by Alice's tumble down the rabbit hole into a magical world, Dimension Design turned its facility into a traditional Victorian Era garden tea party reminiscent of the popular tale. Invited guests were transported into an alternative realm, much like Alice's character, that exemplified how the firm is able to transform space into a branded experiential environment.
Serving as a single source for guests, the entire space was designed to be transferrable to a show floor, demonstrating Dimension Design's full range of offerings including its own structural framework and print and graphic capabilities, plus multimedia services, lighting, themed entertainment, catering, etc.
According to Director of Creative Services Darrin Jackson, the industry is going through a transformative moment. Moving in a similar direction, Dimension Design exhibited its shift from a tension fabric provider toward producing branded environments that incorporates the depth of its partner ecosystem to personalize the experience for their guests.
"For at least the past 4-5 years, the industry has taken a more holistic approach to marketing and branding – one that aligns different content and media to deliver an immersive and personalized experience," explained Chad McNeal, vice president of innovation, Dimension Design. "It's not just product shots and a bunch of experts in a booth anymore. Every guest's time is very valuable. Recognizing that and mapping a personalized experience is the next step to elevating performance at tradeshows."
Stuart Katz, director of marketing, Dimension Design, shared examples of several shows that are already putting experiential marketing into practice.
"There is a growing trend of environments that totally immerse guests in the brand experience. Brands with high walls on the perimeter of their tradeshow space are good examples of using experiential techniques," said Katz. "It's become prevalent in places like CES and E3. Some brands are even going 'back to the future' with strategically timed theatrical presentations that connect product, brand and culture in one environment.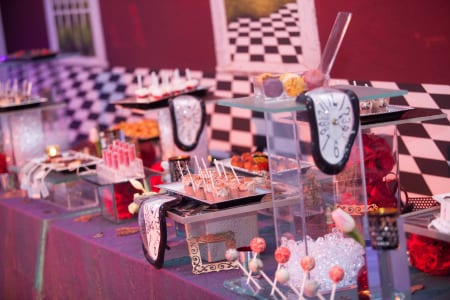 Exhibits are a kind of event, according to Mike Rogers, president, Dimension Design, thus driving exhibit houses to shift toward event production on the show floor.
"An exhibit space may be a 40' x 40' framed traditional build. What transforms it into an event space is the organization of messaging, creative, staff and other content that personalize the guest's journey, activate positive feelings toward the brand and move the buy-cycle forward," added Mike Rogers, president of Dimension Design.
Dimension Design achieved its goal to expose a new level of creativity and execution that helps clients elevate the attendee experience with its own whimsical storybook characters, artistic acrobatic acts from Post Entertainment and themed food and beverages catered by Art of Cooking.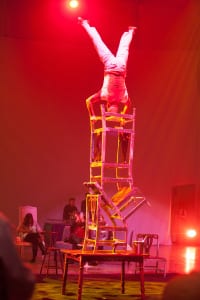 Guests were greeted by Alice and the Mad Hatter on stilts, matching the height of an oversized teapot. Blue-hued cocktails were served to imitate Alice's shrinking potion before visitors entered a narrowing tunnel, or rabbit hole, to a garden tea party. The reception was filled with grand-scale images, hanging light boxes, a DJ mixing tunes and special effects lighting by Paul Fine of Fine Design Associates, along with a costumed White Rabbit and entertainment from a strap aerialist and acrobatic chair stacker.
Coming full circle, the evening's affairs exhibited Dimension Design's full capabilities, including incorporating a universally compelling theme, a key marketing strategy in 2015.
Established in 2002, Dimension Design is a collaborative and innovative branding partner that delivers custom environments to support the face-to-face marketing activities of exhibit houses, marketing agencies, production and event companies and their clients. The company uses aluminum, tension fabric and other impactful items to highlight brands, products and services at events and tradeshows, in corporate and retail venues and other exhibition environments. Based in Glenview, Ill., Dimension Design has a production facility in Las Vegas, and sales offices in Philadelphia and Los Angeles.
Photo credit: Imagine Studios LV