One year ago, Sept. 18, 2014, the Exhibit Designers and Producers Association (EDPA) announced the revival of its Northeast Chapter. On Oct. 9, the organization proudly announces the election of its new Chapter President, former Chapter Treasurer and current Hill & Partners Vice President of Accounts, Matt Johnson.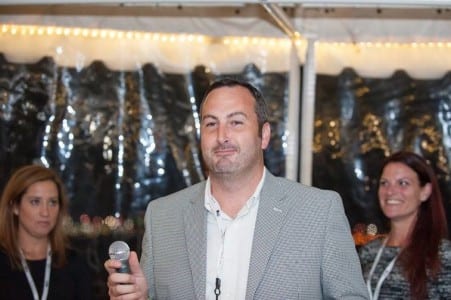 The EDPA Northeast Chapter was formed last year to bring together the brightest industry minds in the region for collaboration and educational information sharing.
Johnson's exemplary work with the EDPA's revived Northeast Chapter over the past year as Chapter Treasurer put him in the position to accept the prestigious honor of being named Chapter President. Johnson's excellence in the professional design and trade show field is nothing new to his Hill & Partners team as during his tenure as VP of Accounts, has been dealing directly with Hill & Partners' long list of industry leading clients and has been in large part, responsible for the company's immense success in recent years.
"It is an amazing honor to be elected as new Chapter President and I couldn't be more proud of the progress our revived Northeast Chapter has made over the past year," said Matt Johnson. "There has been no better place than here at Hill & Partners to further develop my skills and passion for this industry and I look forward to doing everything I can to continue to build the EDPA's Northeast Chapter."
Johnson has been a vital member of the Hill & Partners team since 2005 and assumed his current position of VP of Accounts in 2012. As Hill & Partners celebrates its 20th anniversary this year, Johnson's election as EDPA Northeast chapter President starts 2015's fourth quarter with a bang and will continue the company's momentum throughout the new-year.
The Northeast Chapter meeting was held at Hill & Partners' headquarters in Weymouth, MA, where not only the election occurred but Hill & Partners CEO, Michael McMahon gave a keynote speech on the company's 20th anniversary and experience of being in the business for two decades. The speech was entitled "20 Years of People, Passion and Projects." Hill & Partners designer, Josh Terceira gave a talk on Millennials (he is a Millennial himself) "Bridging the Gap." Terceira's speech touched on the fact that the only real difference between generations in the field, is one grew up with technology and that all generations can learn from each other.
In addition to Johnson being elected President, the Northeast Chapter named Sarah Fantuazzi (former President) as President Emeritus, elected Dana Esposito as Vice President, and appointed Dave "Sparky" Spatara as Chapter Secretary.