Offering an online directory of North America's vast industrial equipment distributor network is findadistributor.com. The website connects manufacturing and supply chain equipment distributors and dealers with end users looking for lifting, moving, storage and delivery technologies.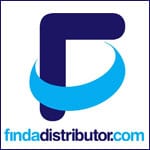 "I have worked with companies in North America's industrial equipment sector for many years and wanted to provide a cost-effective marketing tool for distributors and providers who serve specific geographic areas," said Mark Bridger, founder, findadistributor.com. "There are a myriad of online marketing and search engine tools available but most are too broad in geography or generic in audience. findadistributor.com effectively puts distributors and dealers where they can be found by local customers."
Conveyors and conveying equipment; overhead traveling cranes, hoists, and monorail systems; industrial lift trucks and stackers; mezzanines, racking and storage products, and other material handling equipment feature in searches.
Listings on findadistributor.com can include logo, address, telephone, fax, email, website and recent social media posts, plus a list of products and services. All company information is made readily available for buyers to source by U.S. state, town or city; product category; or company name. Search results even include a detailed Google Maps image of the location of the distributor or dealer.
Buyers in the automotive industry; plastics and electronics; pharmaceutical, healthcare, food and beverage; warehousing logistics; foundries; and aerospace sectors are among a growing community starting equipment buying processes at findadistributor.com.
The website also hosts details of relevant manufacturers and training providers putting the entire material handling, logistics, assembly and distribution networks in one easy-to-use directory.
For more information, visit findadistributor.com or contact info@findadistributor.com.
Twitter @FADnetwork