Welcome to the last part of the 3-part series. If you didn't read Part 1 or Part 2, go read them!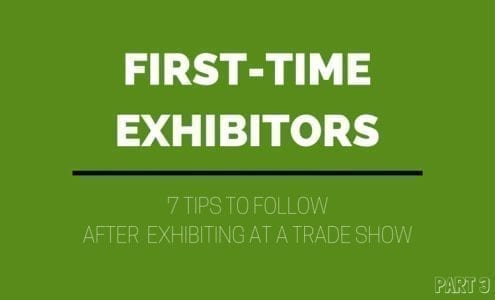 You've done it! You've attended your first tradeshow and survived, what next?
You'll likely be exhausted when you get back to your office, anxious to catch up with any other work you might have missed. Although you might think the most important part of the tradeshow is over, what you do after the tradeshow plays a huge part in your success. According to the Center for Exhibition Industry Research, 80 percent of tradeshow leads never receive a follow up. This is the worst mistake you can make, after all, you've invested both time and money in this tradeshow – take advantage of all the prospective leads!
Here is a quick guide on what steps to take next.
1. Organize your contacts
You open your suitcase and out come the hundreds of business cards you collected. Instead of being overwhelmed by all the information you received, look at it like you're sitting on a goldmine! Organize your leads, into "cold leads, warm leads and hot leads." Hopefully you took some of our advice from Part 2 and implemented a scoring system or wrote notes on your business cards to help you categorize each lead.
If you have a customer relations management system, enter all of these leads with a description of where you met them, so you're able to identify them. You don't have to get fancy though; you can also input their information into an Excel sheet, as long as you have their information saved for future reference.
2. Thank them
Foster a relationship with your leads as soon as you get back. We recommend that you don't make your first contact after the tradeshow a generic "sales pitch." Most people who attended the tradeshow are probably doing the same you thing you're doing, trying to catch up on all those unread emails! Your email will get lost or might be deleted without being opened. They're focusing on responding to emails that directly affect their everyday work first.
Instead, thank them for taking the time to speak with you at the tradeshow. You can even try sending a thank you card through snail mail. If possible, include a personal anecdote (it's a good idea to write about your interaction on their business card, so you can use it for times like these). For example, if the client mentioned that they were interested in opening another store, wish them luck and ask them if any of your services can help them. They'll be more likely to speak with you if it feels like you made a personal connection. Let them know that you'll send them more information or try to contact them in a few days as well.
Catherine Walsh from Alley Watch suggests that you give them options on how you can continue to build a relationship.
"Make sure you offer a variety of ways for them to engage further with you, like white paper downloads, links to videos or blogs, etc. Whatever you do, be sure you let them know all the different ways they can choose to find out more," Walsh advised.
3. Use the power of social media
Use Twitter, LinkedIn and Facebook to connect with individuals or the companies they're associated with. Don't let your content dry out either. If you took pictures or videos while at the tradeshow, upload and share them. This will be a great refresher for those who attended the tradeshow, but it can also be a way to show off your display for those who didn't get a chance to see it. Just because you took lots of pictures doesn't mean you should upload all 200 of them. Post only the best content – find a picture where there is a crowd surrounding you rather than one where you're sitting down behind the booth (which is also a huge no-no).
4. Directly contact leads
Refer back to your "hot leads" and contact them first. Catherine Walsh also mentions that waiting three or four days after a tradeshow to send them a follow up email has a better chance of being read. The Lead Response Management Study advises that sending out emails on a Wednesday or Thursday between 4 to 6 p.m. will also increase its chances of being read. If you can, offer a discount as well so that they might be able to take immediate action.
Why is it so important to focus on contacting these leads? Our friends at TradeShowStuff have a great explanation and when you see it in terms of money, it seems to make more sense.
"Consider that each tradeshow lead has a cost, a cost you have already spent. If you spend $5,000 on your tradeshow and came away with 500 leads, then every lead cost you $10. If on average you convert 25 percent of those leads, then each new customer cost you $50. On the other hand, if you don't manage your tradeshow leads and 75 percent of them aren't followed up on quickly, your conversion can cost you four times as much. $200?? That's expensive!"
5. Schedule appointments to follow up
If you are trying to stand out from the crowd, try giving them a call. Be persistent if you can't speak to them right away, but don't pester them either. If you are able to get them on the phone, try to set up an appointment to give them a more in depth description of your products. If you're in the same area, either have an open house or invite them to check out your facility. If they went out of their way to meet with you again, they're probably interested and the more likely that this lead will turn into a sale.
6. Blog about it
Share your experience with others! Share the innovative products you saw, the best things about the tradeshow and a quick overview for those who were not able to attend the tradeshow. Remember to keep it upbeat, no one likes a negative Nancy. If you're reviewing a tradeshow, you're probably a professional (at least that's how people will perceive it and we're okay with them seeing it that way!)
7. Measure success
Remember to review the tradeshow and identify the strengths and weaknesses of it. Do this while the event is still fresh in your mind. Think about how many people you engaged with, how many business cards you collected or what people thought about prizes. You'll be able to build upon this experience and get better at your next tradeshow. If it's someone else attending the next time, they'll appreciate having guidance. If you haven't already, ask for feedback from your leads or even other companies that you might be in touch with. They might notice something that is of importance that you missed! The more information the better off you'll be.
See related articles:
Part 1: 7 ways to use Instagram to your advantage at a tradeshow
Part 2: How to sell yourself at your tradeshow booth