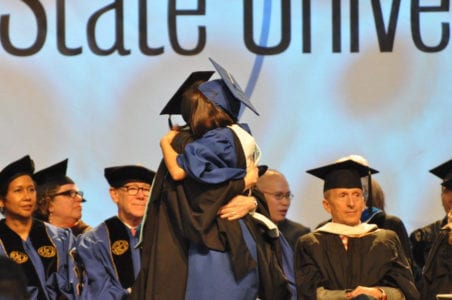 As the exhibition industry continues to grow, universities are increasingly stepping up to unleash crops of well-trained professionals.
With the allure of trade shows largely rebounded since the Recession, more companies than ever before are trying to carve out a space somewhere in the exhibition industry. But even as the growth of the industry tracks upwards, the challenge for many businesses, whether they are exhibit design houses, experiential marketing firms, or companies looking for internal trade show staff, is hiring employees who are adequately trained to jump right in.
Many who find themselves working around exhibitions say they just fell into it, with perhaps one corner of their training overlapping a skill necessary for trade show planning. The rest of their expertise comes trial-and-error style, often on the show floor, which can be an expensive place to learn. "I was a marketing coordinator at a small company when my boss basically handed me a list of possible trade shows he wanted to exhibit at and said to get on it," said Kasey Knott, a trade show manager at Flour-rite Co. "It was a tough learning curve, because there are things about working in the trade show industry that are unique from every other marketing application. I made a lot of mistakes."
Knott's story is anything but unique, and a host of certification programs have sprung up to try to fill in the gaps in training that many working around trade shows find themselves with. It was not a perfect solution, Knott said, but it has been better than nothing for people who stumbled into the world of exhibitions.
But the U.S. Department of Labor and Statistics says that the meetings, conventions and events industry is on track to grow even more over the next decade – outpacing the general job sector by 10 percent – and a handful of universities around the country have taken note. The result is a growing field of study that recognizes that conventions, exhibitions, and trade shows are unique animals – even from other areas of the meetings industry – and that executing them well demands a special cocktail of skills that crosses a surprisingly large assortment of previously unrelated disciplines.
At Bemidji State University in Minnesota, the Exhibit Design program, which attracts students from all over the world, overlaps, among other things, interior design, product design, model design, architecture, graphic design, multimedia, sustainability and construction, said Sachel Josefson, (on our print edition cover, at left) an assistant professor in the Technology, Art, & Design Department. Under the program's intensive focus, students learn not just general 2-D and 3-D design principles, but also human-centered design that considers the end experience, such as traffic flow, typography, and technology, to implement logic that reaches far beyond designing a pretty exhibit.
The program, which has been churning out graduates since the early 1990s, is heavily geared for those destined for exhibit design houses, though Josefson said some who are aiming for the trade show manager side of the industry will double major in marketing and exhibit design for a comprehensive education. Also, university officials are contemplating an experiential marketing major that will focus on events, exhibits, merchandising, and other trade-show-related skills to more directly meet the growing needs of that population of students as well.
Needs are growing not just because of the number of new people entering the industry, Josefson said, but because executing face-to-face marketing well has never been more necessary.
"I believe exhibit industry education is important because, in a society that is saturated in technology, events like tradeshows facilitate extremely meaningful face-to-face experiences for individuals," Josefson said. "But this industry is expensive, therefore, if not executed effectively or if the full potential of exhibiting is not realized, then the future of the industry is unknown."
The Fashion Institute of Technology in New York boasts undergraduate and graduate degrees in Exhibition Design that aim to take someone's interest in a design or communications field and whittle it into the perfect tool for executing exhibitions. Like Bemidji's program, FIT wraps a multitude of disciplines together for a highly targeted education that more generic programs can't achieve.
Associate professor Christina Lyons, who is the chair of the Graduate Exhibit Design program at FIT, says that while students there are studying design principles, they are also studying storytelling. "We give student techniques to uncover and reveal stories through process and research and interpret those stories with design devices in a way that can move, educate and inspire audiences," Lyons said. Also, as an underpinning for the profession, the ability to communicate ideas and messages factors heavily in the curriculum, as does creating an experience rather than just a place.
Chris Dorn, president of exhibit house Idea International and a graduate of Bemidji's exhibit design program, agrees that it is old thinking to believe that if you build it, they will come. "A plan has to be a lot more savvy than just developing an environment that looks really cool," Dorn said. "You have to tie it into a brand's message and think about the experience as a complex package, and this program shows you how to do that. Bemidji is at the forefront of getting people on the ground in the real-world side of the exhibition business."
For Dorn, the real world meant a job right out of college with Derse, an exhibit design house and experiential marketing firm. In fact, both universities say that they have more companies looking for graduates than they have students, so placement after college is not an issue.
But Dorn acknowledges that exhibit design wasn't even a career on his radar when he was a high school senior looking for a university. Instead, he said, he seemed likely to follow in the engineering steps of his father, with the distinction that he liked to construct things like skateboard ramps rather than whatever it was his father was building at John Deere. Once in the Design and Technology program at Bemidji, however, he says a fascination with the CAD machines and the concepts of designing huge, intelligent spaces appealed to him, and he was hooked.
For other would-be trade show professionals, some meeting and event planner degrees offered at universities around the country make a special effort to incorporate learning about exhibitions into the curriculum, although few offer a distinct exhibition and trade show tract.
More often, subjects pertaining particularly to trade show environments are presented in just a course or two, with the bulk of the curriculum centered on the general topics of hospitality management. Graduates most often leave those programs prepared for positions at hotels, tourism agencies, sports venues, and meeting planning outfits. But while the concepts of contracting, planning, organizing, and executing an event are somewhat generic, the nuances of doing so in a trade show environment demand a specific focus that can be difficult to provide in a broad curriculum.
But programs like the one at Indiana University – Purdue or Rosen College of Hospitality Management at the University of Central Florida, while offering a deep core in the broader topic of meetings, events, or tourism management, do supply students with the option of more intensive courses in trade show management should a student so desire.
At Rosen College, for example, students seeking a Bachelor's Degree in Event Management do take a host of required courses in general hospitality management, but then they also have the opportunity to specialize in exhibitions with higher level courses in exhibit and trade show operations, international events, and advanced trade show management. Purdue offers similarly targeted courses aimed at giving students precisely the mix of skills they need to succeed in a trade show environment.
Josefson says that while such highly targeted programs are a rarity at the moment, he believes the education world is changing to better provide skills-based learning. "In looking at higher education before World War II, colleges and universities were primarily for the elite and the education was more general," Josefson said. "But the GI Bill made college education accessible for millions of Americans, causing a surge in colleges, universities, and student enrollment. As more students attended colleges and universities over the years, the academics became increasingly more career and industry focused. If academia continues to become more and more specialized, I foresee exhibit industry education becoming taught more on a mass scale." Until that happens, he said, the small number of programs like Bemidji's will continue to attract a global student body comprising people who want a deep core in an industry they can't learn about in many other places.
Even education programs as long lived as Bemidji's and FIT's (at right) have had to gradually shift their focus over the years as technology and experiential concepts came to the forefront of the show floor. Decades ago, designers were often creating spaces for the sake of design, and now they must conceive them for the brand, taking a company's catch phrase, theme, or image and turning it into a 3-D or 4-D environment, said Dorn. "It used to be that exhibit houses brought designers to the table to discuss return on investment," he said, "but now they bring them to the conversation to talk about return on experience."
But students are not being taught which designs are better than others, Lyons said. Rather, they are being taught to use an analytical process that uncovers both their own creativity and the specific needs of a client. "Our education centers around understanding the specific motivations and desires of visitors," said Lyons. "We nurture a process that enables students to overcome preconceived notions of what exhibition design is or what has been done before. Students must explore, investigate, and go beyond what has been done. We strive for an innovative and unique contribution to the profession."
Similarly, Bemidji students are taught that the end result on the show floor is so much more than an assemblage of shapes, colors, and textures. "Exhibit design students at Bemidji States University are taught to think of trade show exhibits as complex, multilayered experiences for attendees with a broad set of physical, emotional, and intellectual needs," Josefson said.
Unlike decades ago when bells and whistles were attached to exhibits with little thought, Dorn said, designers – good designers anyway – need to be able to articulate why an idea ties into a company's message and how an investment in that idea moves a company forward. Forming and executing such intentional ideas are at the core of the university programs available today, and everyone seems to agree that the industry is a better place for it.
To better prepare students, each of the programs targeting the exhibition industry has developed partnerships with companies that offer hands-on experiences. Internships, field trips, and senior projects all bring real-world scenarios in front of students by exposing them to some of the biggest players in the exhibition industry including Kingsmen, Derse, MG Design, Group Delphi and more. Many of those relationships are fostered by a close association with the Exhibit Designers & Producers Association, one of the exhibition industry's leading champions for exhibit design.
"Our program focuses on building creative leadership and client-ready graduates," Lyons said, "and ours work for large and small firms across the country and internationally." Representatives from those partner companies line up to extol the virtues of having well-trained graduates in the marketplace. "I have worked in both New York City and in the Bay Area and had FIT interns," said Mark Pearlman, design director at Delphi Productions. "In both instances, the companies I worked for have had great success with their interns and have hired them on as full time employees. I think that proves that FIT prepares these students for the rigors of the exhibition industry no matter the location or type of company."
For students emerging from the program, having a degree specializing in exhibitions, they say, was transformative for their career. "I am proud to be a graduate of the program," said exhibit designer Katina Rigall. "The program changed the course of my career exactly as I hoped it would. It was the best investment of time and resources I have ever made."
Indeed, in an industry full of people who have had to learn on their feet, being a graduate of a program specifically designed for the exhibition industry has provided not only a distinct advantage for the students, but has also elevated the bar for the industry.
They aren't just exhibit designers, Lyons said. They are stewards of the profession, ambassadors of the next generation.
"The graduate level is about creating leaders who work in the industry in multidimensional capacities and innovate within the companies and institutions they work for after graduation," said Lyons. "We see them as the leaders, creators and the drivers of what's next in the industry."