Steel Space Concepts dispenses with tradition
When most people think of large shipping containers, images of hauling furnishings during a cross-country move come to mind whether they have taken on this endeavor or not. Steel Space Concepts took this traditional moving method and applied it to multiple industries across North America.
Based in Quebec, Canada, the company began by demonstrating the endless possibilities for recycled steel shipping containers – an indoor or outdoor tradeshow booth, a mobile showroom, a pop-up retail store, a festival stage or a VIP area at an event, etc.
What a steel container can become only requires imagination and the assistance of a partner like Steel Space Concepts. The company specializes in transforming modular containers into mobile turnkey environments for rent or purchase.
Suppliers and agencies operating in the retail, tradeshow and event sectors have reached out to Steel Space Concepts on a project-by-project basis because they don't have the resources to carry out a mobile exhibit concept in-house.
Steel Space Concepts also outsources some of its services, such as transportation. So these 50/50 partnerships are beneficial to everyone involved.
I. Logistics
Brands and their suppliers can choose modular containers ranging in size from 8 to 16 feet in the Steel Space Concepts LITE series and 10 to 40 feet in its original product line. The company provides pickup trucks to transport the LITE units, but larger containers require Steel Space to partner with transportation companies.
"The 10′, 20′ and 40′ units require a 53′ step-deck truck. Using external transport companies allows costs to be reduced in many situations. They have their own dispatcher who can secure return loads when needed instead of the client having to support the cost related to the return of an empty truck," explained Emmanuelle Auffray, MBA, marketing coordinator, Steel Space Concepts.
Larger containers are inherently self-sufficient. Once they are loaded on a flatbed truck, no heavy weight lifting hydraulic machinery like forklifts or cranes are needed. Instead, the container itself has built-in hydraulic legs that deploy downward onsite. The flatbed then rolls out from underneath the unit, which stands on eight legs. As the container lowers to the ground, its legs retreat inside.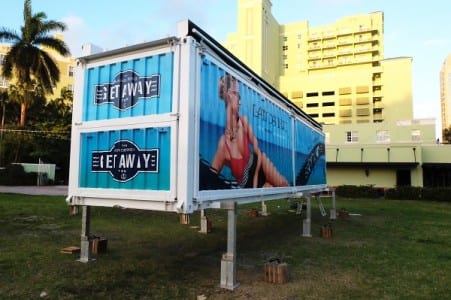 "As Steel Space units have a very unique loading/unloading system, we are typically able to load/unload the unit exactly where it will be activated or set up. In such, related fees are spotting fees instead of per-pound fees which, depending on the exhibit, can represent an important cost saving," she added.
Auffray added that union labor may not have the required knowledge to set up these modular containers.
"Typically, the set-up can be performed by one technician, allowing savings on labor. Also, most of the unit configuration/construction/set-up is done prior to shipping. It, therefore, avoids [the use of] onsite contractors, power tools use, etc., and our clients can avoid having to hire union labor," she explained.
II. Modularity 
Steel Space's units have seen a range of locations due to their flexible, reusable nature. The company personalizes its rental units with branding, fixtures, furnishings and products. This process usually takes two to four weeks. The design for its purchase option takes six to eight weeks. In most cases, added Auffray, Steel Space can accommodate clients' timeline on a case-by-case basis.
"We always try to understand the client's brand image, goals and targeted people prior to scouting for locations. Based on the brand's image and their objectives, we look at different locations where the population, residents and attendees fit the brand image and match the targeted people. [We] then try to find a location with the highest foot traffic in that neighborhood," remarked Auffray.
Whatever the container's size or where it is used, Auffray indicated that mobile environments increase face-to-face interactions.
Tradeshow Booth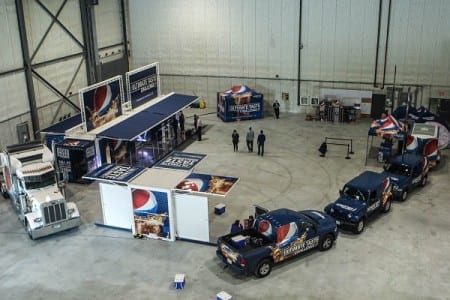 During EXHIBITORLIVE 2015, Steel Space Concepts gave attendees a look into what it's like to use a mobile container in place of a traditional exhibit on the show floor. At the forefront of the company's message was the container's modularity.
"Mobile exhibits are more effective on many levels. They were designed to be easily transported from a location to another, allowing our clients to attend multiple locations in a very short period of time," said Auffray.
In this sense, clients can use the same mobile container to reach different groups at tradeshows (inside or outside) and a range of events.
Mobile Showroom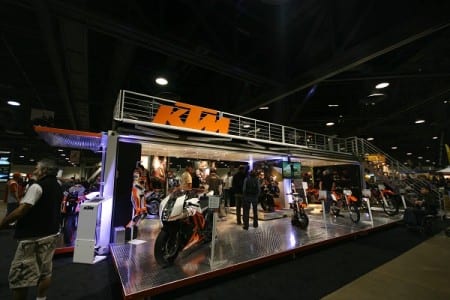 Many exhibit, event and furnishing suppliers have onsite showrooms in which potential clients can browse. Rather than sticking with traditional methods, Steel Space Concepts can help companies take their showrooms on the road.
"Imagine how you could reach all of the employees of a company by setting up your showroom directly in their parking lot. And imagine if your showroom was in their parking lot serving food and beverages on a nice a sunny day. The amount of people from the same company visiting your showroom would increase significantly," stated Auffray.
Steel Space Concepts brought this vision to life in 2013 for Kia Canada. Outside the Molson Amphitheatre in Toronto, a 40-foot mobile showroom attracted visitors to discuss the 2013 Optima and Rio models with Kia representatives.
Pop-up Retail Store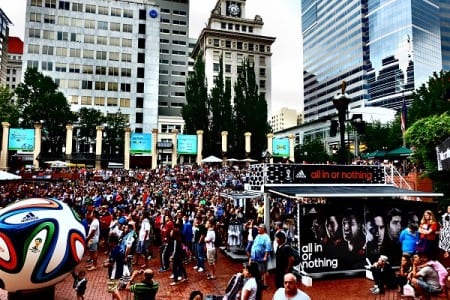 To diversify their business, some suppliers to the tradeshow and event industry also do semi-permanent retail installation. When working with Steel Space Concepts, retail installations can be as effective as the ones these companies do for big box retailers as indicated by Auffray.
"Renting brick and mortar stores and adapting them for you needs can be pretty expensive, especially on a temporary basis. This is where Steel Space units come into to play. It allows you to move it from a location to the other while keeping it as is and, therefore, avoiding the expenses related to adapting the next brick and mortar store for your needs," she explained.
During the 2013 Fashion Week in New York City, Ford Motor Company, New York fashion designers and Steel Space Concepts partnered to create a 20-foot retail activation. Inside, visitors accessed various clothing styles and accessories as well as the 2013 Ford Fusion.
Event Stage or VIP Area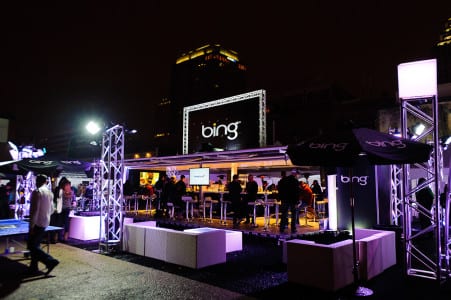 Steel Space Concepts has also created mobile environments for clients at music festivals, such as Osheaga 2014 in Montreal, Quebec, and the Austin, Texas-based SXSW 2015, which was a project partnership with Czarnowski for Philips. The company has also created a mobile stage for a snowboarding event.
With Steel Space, it seems the ideas never run dry.