With a full day of professional development lined-up, IMEX America's free "Association Focus" event will make a high-powered start to the Las Vegas IMEX tradeshow in October.


The "conference within a conference," sponsored by host venues the Venetian, Palazzo and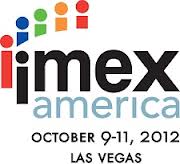 Sands Expo and Convention Center, will take place as part of IMEX America's "Smart Monday Powered by MPI" on Oct. 8 – the day before the three-day IMEX tradeshow officially gets underway. The free event is exclusive to association planners only.
"Following our debut event last year, we took onboard a lot of feedback from the U.S. market. Association Focus is just one of the building blocks of IMEX America that has been redeveloped since last year to improve and enhance the show," said Carina Bauer, CEO, IMEX Group. "We are really excited to be welcoming around 200 association executives to Las Vegas for this event and are especially grateful to our sponsors, The Venetian, The Palazzo and Sands Meetings, for making this event possible."
The keynote speaker for the pre-conference Association Focus event, business-leadership expert and author Mark Sanborn, is a member of the prestigious Speakers Roundtable, a society comprising 20 of the top speakers in the world.
Event organizers have worked to provide an extensive learning program for association executives keen to improve their professional skills and knowledge. The new education program is tailored to suit different levels of seniority and career development, including a choice of executive, global and meetings sessions throughout the day.
For meeting planners looking to place association business internationally, the sessions led by the International Congress and Convention Association on "Entering new markets" and "Planning Global Meetings with a Focus on Asia" should prove useful. For executives, the three-hour, ASAE-led program entitled "Managing Through Change" will be beneficial.
Officials for the Professional Convention Management Association have devised two 1.5-hour sessions entitled "The science and fun of creating effective learning" and "Meetings Go Mobile." ASAE's afternoon sessions include a "Sustainability Safari," which examines how the Venetian manages its sustainability program to support green meetings and events, and another session entitled "The Strategic Impact of Digital Events on Meetings."
The Association Focus event also offers delegates a choice of more than 20 different round-table discussions across all three tracks and an evening reception and networking event for exhibitors and association partners.
Registration for the IMEX America "Association Focus" is open. Participants are invited to attend either as part of the show's hosted buyer program (subject to qualifying criteria) or as a buyer attendee.