Trussworks is excited to announce Joe Guerrero as national sales manager. He will be responsible for coordinating regional sales teams and customer service, working closely with the marketing team and advancing product development.
Guerrero is bringing 12 years of experience to the table and has been involved in all parts of the industry. He started his tradeshow career at Orbus Exhibit and Display Group where he was a part of the inside sales and business development teams. He moved on to Nimlok Chicago in 2015 as their account executive where he became heavily involved in designing, producing and selling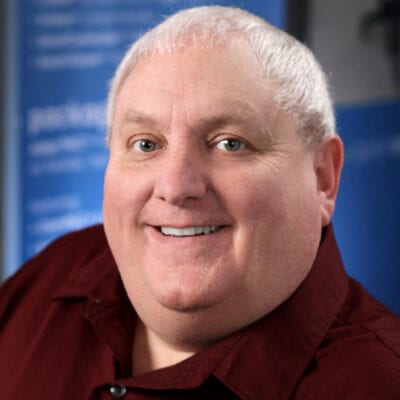 exhibits. After leaving Nimlok in 2017, he joined Aluvision as a regional sales manager for the Midwest. His skills flourished as he performed webinars, presentations, public speeches, technical sales and product development.
Steve Hess (pictured right), president of Trussworks, says, "This is the next step in our strategy to become more than truss. Joe brings a tremendous amount of industry experience to the table that will improve our position in the market as he leads our sales team well into the future."
Guerrero says,"I am very excited to join the Trussworks team. This is an incredible opportunity for me personally and I am looking forward to working with our customers to help make Trussworks the market leader in the tradeshow industry."
For 30 years, Cedar Rapids, Iowa-based Trussworks has produced high quality steel truss systems for the display industry. Trussworks systems are known for their superior strength, ease of use, speed of assembly and clean stylish appearance. Trussworks is aggressively making itself a market leader and fulfilling the goal to be more than truss. Over the years, Trussworks has continued to add products and capabilities. Every product they design adheres to those four principles which embodied their first product lines. For more info, visit www.trussworks.com or call (800) 598-9738.