Security measures
Security and safety at any event are among the top priority for planners and producers. Everything from securing individual exhibits and overall venues to valuable products or public figures depends on the event.
The biggest difference between providing security for events versus tradeshows may be the attendees themselves. From the standpoint of Imperial Security, the group dynamics require distinct approaches as well as types of security.
"Events and trade shows have very different needs. Events often have an element of public participation…. This takes a different type of schedule and pre-planning," stated Sandy Bragg, president, Imperial Security.
"Events need more coverage and more patience from the security force – these are attendees who may not know where exactly their event is, how to get into the correct entrance, what can and cannot be brought it, or what the expected level of behavior is.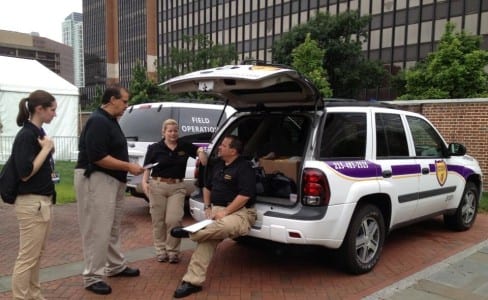 "Tradeshows are more professional in nature, so the attendees all have a goal of productivity and representing themselves well in front of co-workers, vendors, competitors and, of course, potential clients. The schedules for tradeshows tend to be more predictable and less changes to the schedules are likely."
According to Bragg, several other factors affect how event security is managed. Events that involve alcohol or music may require security guards who are more inclined to be outspoken and assertive with attendees. Better suited for tradeshows are security guards with a hospitable nature whose primary function is to check for proper identification and badges.
"Standing your ground is tougher at an event than at a tradeshow," Bragg explained. "People may be trying to impress their friends by being obnoxious at an event, while tradeshow attendees are trying to impress colleagues and clients with professionalism."
The number of security guards at an event or tradeshow is dependent upon event type, location, number of entrances and exits, setup and the attendees. Bragg draws comparisons among various events to illustrate the different requirements for each.
"We walk each venue and review the event or tradeshow specifications to design a schedule that will be most effective," said Bragg. "As you can imagine, designing a plan for the Jewish Federation parade is very different than planning for the American Association of Neurologists, and of course vastly different than handling 30,000 people per day for 10 days at the Philadelphia International Auto Show."
Security is typically provided at all entrances and exits including loading docks and front doors. Often, extra attention is also paid to side doors, emergency exits and freight elevators. The show floor requires a roving security presence for safety and for responses to incidents. Additional areas covered are registration counters, cyber cafés, special displays or show offices. Executive protection is provided to special guests, VIPs, dignitaries, etc.
Special requests could include taking precautions to protect select individuals or to inventory products or merchandise.
"On the move out for the [Philadelphia] Auto Show, we individually check out each and every vehicle one at a time – and audit and collect their move out pass," Bragg recalled.

Other security measures focus on the identification and badging process to ensure exhibitors and attendees are accurately verified before entry. According to Bragg, proper security at the door can be a deterrent for illicit activities on the floor.
In cases of theft occurring on the show floor, security guards have searched for attendees stealing laptops and tablets who possessed legitimate attendee badges. Such instances demonstrate that the danger of theft can come from anyone on the show floor.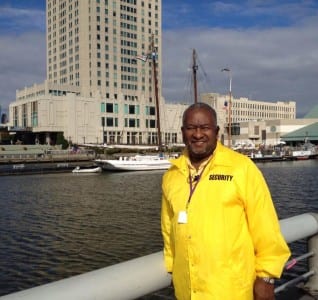 "So much goes on in the course of a tradeshow that security is up against cleaners, vacuumers, labor, exhibitors and even attendees in terms of keeping people and merchandise safe. Security has to let the correct people in during the correct times and clear the floor effectively," Bragg cautioned. "Rovers are instrumental in all types of events – even on tradeshow floors, security has to be cognizant that competing exhibitors aren't in the area of their competition."
Budgeting for security services varies vastly between shows based on the level of security needed, the area to be surveyed, etc.
"Most commonly organizers want to cover the basics with the least impact to their show budget," shared Bragg. "I have seen shows where one reception is more expensive than the invoice for security for the entire show."
Even security companies need security themselves. Show producers may require firms to carry their own insurance policies independent of the clients' as required by the facility. For example, security firms on the approved vendor list at Pennsylvania Convention Center are required to carry a $5 million liability policy as well as the state required workers compensation insurance.
Bragg advises show organizers to consider the importance of security requirements early in the planning process. Valuable goods and items brought onto the show floor are not impermeable to theft, damage or accidents. Security firms like Imperial Security possess the expertise, experience and manpower for secure exhibiting.
Safety first
Another aspect of show floor security and safety is the need for medical services before, during and after a show. At Sands Expo and Convention Center (Sands Expo), the Las Vegas facility benefits from its unique locale.
Directly connected to the Venetian and Palazzo resort casinos, Sands Expo puts a new spin on the "buddy system." Trained emergency medical technicians (EMT) are present at all times, providing extra support to adjoining properties when necessary.
Expected to respond to all injuries in every situation, first-aid medical providers also assist in transferring an injured party to nearby hospital facilities whenever necessary.
Also trained and certified are building security, who are able to administer CPR, use defibrillators and act as first-aid responders. Required to carry the two-year CPR/AED certification, security guards are at the ready while keeping the show floor secure.
Located directly underneath the show floor on Level 1 of the meeting space at Sands Expo, exhibitors and attendees can visit the first aid room for any medical issues ranging from low blood sugar to minor treatable injuries.
According to Sands Expo Event Management Director Melinda Buchanan, attendees at the venue are most likely to report to the first aid room for dehydration during a tradeshow. While traveling, exhibitors and attendees may not be able to maintain proper nutritious diets. Additionally, the dry climate and desert heat may only exacerbate the problem. To help combat dehydration, Sands Expo set up water stations all around the building.
Due to its sizeable 2.25 million square feet of combined event space, show producers at Sands Expo are obligated to bring their own contracted first-aid. At least one Nevada licensed medical professional must be dedicated to the event at all times, with Sands personnel available to help and assist in all situations.
While work crews maintain their own guidelines for safety procedures during set up and tear down, Sands Expo officials advise laborers to be aware of surroundings and to watch where they are walking. Forklift drivers are requested to wear seatbelts and to maintain reasonable driving speeds on the show floor.
Although well-trained to handle the fast pace at which shows must be moved in and out of the facility, the most common cause of injuries occurs when show floor workers fail to follow procedures, according to Sands Expo representatives.
With multiple medical personnel on staff, Sands Expo is well-prepared to handle any medical emergency, guaranteeing the safety of exhibitors, attendees and show floor workers throughout a tradeshow.