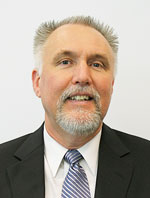 Leviton recently announced the appointment of Frank Leicht to the position of business development manager for Leviton's International Retail Operations. In his new position with the company, Leicht will focus on growing Leviton's global retail operations, including expansion of business opportunities with Ace Hardware, True Value, Do it Best, Sodimac and other key retailers throughout Mexico and South America.


Over a career spanning 13 years with Leviton, Leicht has played an instrumental role in developing key domestic retail accounts through the delivery of new programs, expanded product offerings and enhanced in-store support. Starting out as a field service representative for multiple Leviton retailers, Leicht worked his way up to the position of Eastern regional sales manager for The Home Depot. Serving as the key contact for The Home Depot's regional buying offices, Leicht also supported line reviews, managed the account team, spearheaded service operations and championed Leviton's "Best in Class" program to the giant retailer's Northeast stores.
Leviton Manufacturing Company is a global manufacturer of electrical wiring devices, data center connectivity solutions and lighting energy management systems. For more information, visit www.leviton.com.