Rather than looking at a seat neighbor puzzled after a presenter's key statement was lost amid a crowd's joyous laughter or uproar, attendees at tradeshows or conferences could stay connected to a speaker with enhanced listening technology.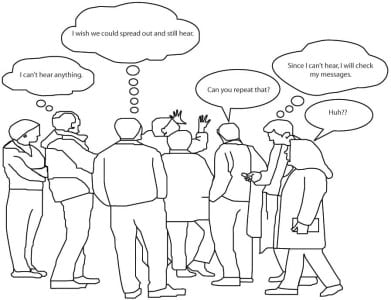 "Enhanced listening technology is tailored to the needs of presenters, tour guides, language interpreters and others who need to cut through environmental noise to create a personal listening experience for every individual they seek to communicate with," said Cory Schaeffer, co-founder, Listen Technologies.
When on the tradeshow floor, enhanced listening technology could also ensure smoother business transactions.
"Using these systems sets companies apart from their competition. It helps companies cultivate better leads and get a better return on investment from exhibiting at tradeshows," she explained. "With the business world becoming more international, the need for reliable and precise language interpretation equipment at tradeshows is greater than ever. When the subtlety of meaning can be lost in as much as a tone of voice, clear sound is vitally important."
Manufactured by Listen Technologies, enhanced listening technology grew out of assistive listening technology, which involved taking sound from a venue's audio system and delivering it into the ears of an individual with hearing loss while simultaneously blocking out background noise. Giving enhanced listening technology life was the need for language barriers and environmental noise to be blocked or, at the least, reduced at tradeshows.
"It's not uncommon to see tradeshow exhibitors pouring their whole heart into a presentation, or even a one-on-one conversation, only to have the audience or other party half engaged because they can't hear what is being said," said Schaeffer. "Imagine if those distractions could be eliminated with the push of button. This is what enhanced listening technology can do."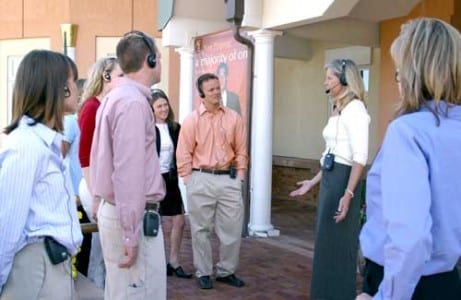 This technology works through portable radio frequency-based systems that use microphones and small transmitters, worn by exhibitors, and headsets with small receivers, worn by attendees. If stopping at a tradeshow booth for a chat, attendees can slip on these headphones to decrease environmental noise as well as hear the exhibitor's voice clearly.
"Some try to overcome environmental noise on tradeshow floors by leveraging microphones connected to loud speakers. Such an approach contributes to the already too loud ambient noise of a tradeshow and do not create a personal, comfortable listening experience," said Schaeffer.
In contrast to loud speakers, the volume of enhanced listening systems can be adjusted to suit many users in one location.
"The goal of most booth visitors is to have a personal experience. If they wanted to hear a presentation broadcasted, they could get this via YouTube, a webinar or a video from an exhibitor's website," Schaeffer added.
The familiarity of certain components of enhanced listening systems contributes to its intuitive nature. Many of these components are commonly seen in other types of technology.
"The technology is very easy to use. In most cases, especially when it comes to portable radio frequency-based systems, it's as simple as clipping on a small microphone and transmitter and then setting the device to the desired channel," explained Schaeffer. "It's even simpler for audience members who slip on a headset that could be waiting for them and pre-set to the correct channel. Many also have simple LCD readouts and battery indicators."
For Listen Technologies, educating potential clients about the technology is required in certain cases.
"We've found it's difficult to explain how much of a difference such systems make. It is something that has to be experienced. Because of this, we typically offer clients small evaluation systems to try. Many clients start with renting a solution for a tradeshow or conference prior to making a full purchase," said Schaeffer. "Our experience is that once they actually use a system, they get it, and they subsequently think of uses beyond tradeshows, such as tour groups of their headquarters or factories."
Commonly used in various live communication settings, portable radio frequency systems from Listen Technologies have the capability to scale from one user to hundreds and can operate across multiple groups while ensuring interference from neighboring systems is kept to a minimum, according to Schaeffer.
More information about Listen Technologies' portable radio frequency systems can be found here: http://bit.ly/14bNdul.