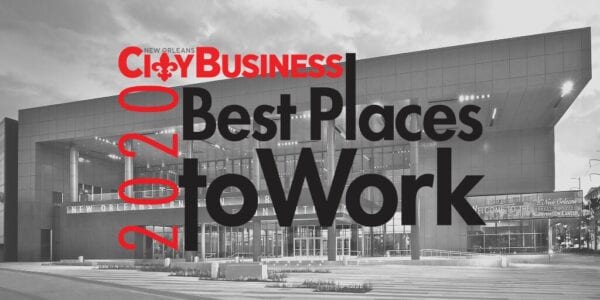 The New Orleans Ernest N. Morial Convention Center has been selected as one of the city's "Best Places to Work" by New Orleans CityBusiness, a weekly business newspaper. The convention center earned this honor in the "Large Businesses" category, which includes companies with over 50 employees. This is the second time the convention center has received this prestigious honor.
"We are indeed honored that our convention center has been recognized as one of the 'Best Places to Work' in New Orleans," says Michael J. Sawaya, president of the New Orleans Ernest N. Morial Convention Center. "Our vision for providing exceptional customer service to our external customers begins with ensuring a work environment that provides an exceptional internal customer service experience for our staff.  Our employees truly understand and appreciate the role they play and the positive affect they have on the state and local economy." This honor is particularly special in a year where the convention center and its staff played a key role in helping the local community deal with and recover from the Covid-19 pandemic.
All 500 full-time and part-time employees are required to attend regular training on the five Customer Service Standards that are the guiding philosophy of the program.  These standards are reinforced in a daily bulletin known as the SPICE Rack,  that is distributed  to all team members. The SPICE Rack encourages employees to recognize fellow employees for exceptional acts of service and offers daily tips on how to make the most of the ever-changing landscape that the COVID-19 pandemic has presented.
"The year 2020 has been a particularly challenging year for our entire industry, but our facility has continued to employ hundreds of New Orleanians throughout the COVID-19 pandemic," Sawaya continues. "While event activity has understandably been temporarily halted, our staff has been involved in essential work that addresses health and safety protocols and improvements to our facility that will be key and critical to returning to normal activity in 2021."
New Orleans CityBusiness published a complete list of Best Workplaces recipients on Sept. 11. For more info on the nomination process and a full list of the 2020 Best Workplaces honorees, visit https://neworleanscitybusiness.com/blog/2020/09/11/announcing-the-2020-best-places-to-work/
With 1.1 million square feet of prime exhibit space, in an entirely contiguous hall, the New Orleans Ernest N. Morial Convention Center provides the largest single exhibit space in the country, features an award winning staff, first class amenities, and is the sixth largest convention center in the nation.  A leading contributor to the city's robust tourism economy, the Convention Center's event activity has produced $90.1 billion in economic impact since its 1985 opening, including $5.7 billion in new tax revenue for state and local governments. For more info about job opportunities at the New Orleans Ernest N. Morial Convention Center, or to apply online, visit the Careers section of their website: http://www.mccno.com/careers/.