Meet Puerto Rico (MPR), the non-profit organization in charge of bringing groups and conventions to Puerto Rico, announced the formation of MPR Customer Advisory Board (CAB). Comprised of 11 professionals representing a diverse mix of companies – from associations, corporations and third party planners – CAB will act as a sounding board and idea generating body to analyze and critique and then provide feedback regarding critical sales, marketing and operational issues impacting Puerto Rico.
Objectives of CAB are to improve the use of sales, marketing and operations in terms of planning and spending; explore new revenue opportunities and creative programs to reach customers; and establish deeper and more meaningful relationships with key accounts and enhance customer loyalty.
"The formation of this board allows us to learn and tap into their collective experiences and knowledge to provide us with the strategic guidance we need to continue forward along this growth trajectory," said Milton Segarra, president and CEO, Meet Puerto Rico.
Held July 9-11 in San Juan, the inaugural CAB meeting comprised of three days of interactive group and individual breakout discussions. Along with discussions on destination best practices, key topics included destination and current marketing reviews and updates; the importance of social media to meeting professionals, attendees and key stakeholders; and the competitive landscape and sales booking motivators.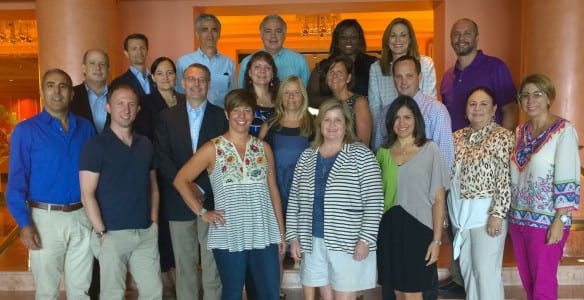 Advisory Board members include:
Cameron Curtis, CMM, meetings & events manager at Courtesy Associates;
Nancy DeBrosse, CMP, senior vice president, sales and account management at Experient;
Lisa Dreier, senior travel buyer, Creative Group;
Chris Gasbarro, chief at Creative Officer, C3LLC;
Eli Gorin, CMP, CMM, owner of Hospitality Growth Partners;
Adam Hayes, manager industry affairs at Procter & Gamble;
Kimberly Lewis, CEO, senior vice president, community advancement conference & events at U.S. Green Building Council;
Laura Miller, firmwide events & sustainability manager at McKenna Long & Aldridge;
Amanda Rushing, director conferences & meeting services at American Society of Civil Engineers;
Brigida Petro, vice president, conference, roadshow and event management at HSBC Securities (USA) Inc.;
David Williams, CMP, president at Administrative Management Services Inc.
Results of the first CAB meeting will be released August 26 at the MPR Annual Meeting to be held at Puerto Rico Convention Center.
"It is a privilege to have access to the expertise and insights of these individuals, and we are thrilled with the insights brought up at our first CAB meeting. We look forward to sharing our findings with our partners," commented Segarra. "Having a finger on the pulse of our clients' needs and the global business environment can only make us better at our jobs and thus, better at bringing more business to Puerto Rico."
Meet Puerto Rico announced that it reached its annual goal by ensuring 189,109 room nights during this fiscal year 2013-2014. This translates into 409 groups and over 100,000 delegates who, in the next few years, will visit the island either for a meeting, conference, convention or incentive travel producing approximately $110 million to the local economy, according to Meet Puerto Rico's CEO Milton Segarra.
See related articles:
Meet Puerto Rico exceeds conventions' sales goal
Meet Puerto Rico stares down bill to end its funding
Puerto Rico breaks down its walls