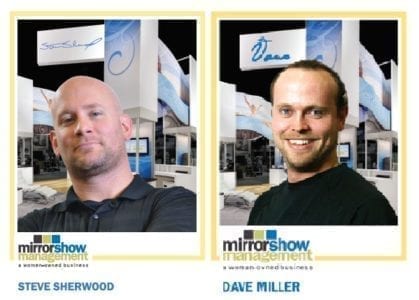 Effective immediately, Mirror Show Management has promoted Steve Sherwood to Assistant Warehouse Manager and Dave Miller to Woodshop Manager.
Steve started with Mirror Show Management in 2014 as Warehouse Coordinator. In 2015, he was promoted to Cisco Lead Warehouse Coordinator. Steve's promotion to Assistant Warehouse Manager will fulfill a need that recently developed on the Warehouse team.
Dave started with Mirror Show Management in 2006 as Woodshop Specialist. In 2014, he was promoted to Shop Foreman. Dave's promotion to Woodshop Manager recognizes the many skills and abilities he has mastered over the past 10 years. He will be replacing a retiring colleague.
MSM congratulates Steve and Dave on a job well done.
Mirror Show Management is a woman-owned trade show and events agency that creates memorable customer experiences worldwide. MSM has earned the elite Fab 50 designation two years running and was first to be certified by the EDPA. They currently hold the #1 position on the Rochester Top 100, making Mirror Show Management the fastest-growing privately held company in their region, and are listed on the Inc. 5000. MSM has also been named to Top Workplaces for the last three consecutive years. For more information, call 585-232-4020 or visit www.mirrorshow.com.