Contributed by Aluvision Inc.
Today, more than ever, rentals are a growing part of an exhibit company's business. Tradeshow industry firms understand that, since time is a luxury they do not have and budgets are getting tighter, developing an efficient rental program has become a crucial part of their activities. The first step in developing a good rental inventory is often finding the right system to work with.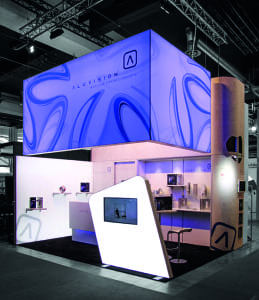 When renting exhibits, many players on the market turn to a modular aluminum system. The reason for that is very simple: Aluminum systems offer advantages compared to the heavy, traditional walls with the typical camlocks found at any custom exhibit house. Not only do aluminum systems help saving on drayage costs, but the simplicity of set up and dismantle also reduces labor costs on the show floor.
Modular exhibit systems have come a long way, and most have evolved with the needs of the market over the past years by adding fabric solutions, light boxes, curves, etc., to their list of products. Rental exhibits using a modular system does not necessarily mean less design creativity.
To understand to what extent a system booth can be customized, it is important to know the system's capabilities. In other words, designers and project managers need to know how to combine the different solutions to create a personalized concept for every project. The idea of an aluminum frame system is to be able to keep the structure and interchange the graphics, eliminating the time and costs needed to refurbish wooden wall panels after every show.
Aluvision, for example, has been a leader in developing innovative modular solutions for the tradeshow and exhibition industry for the past 12 years.
"The ingenuity and simplicity of the Aluvision system is key to its success. The combination of light weight and 'fool proof' set up makes it the perfect solution for any exhibit company's purchase and rental projects," said Stephan De Mulder, senior account director, Aluvision Inc. "The clean and well-finished Aluvision products create the custom look that all end customers dream of, even with tight budgets.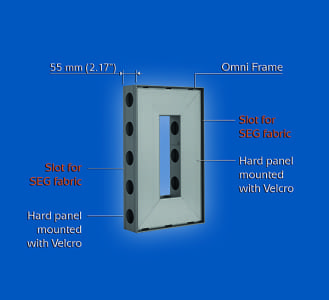 With a very wide range of fabric, backlit fabric, LED lighting and hanging sign solutions, Aluvision is also far more than a 'wall frame system' only."
With large graphics being so popular, exhibit companies often turn to fabric solutions to have a seamless result. Aluvision's Omni frame solution for example, allows for either silicon edge fabric or hard panel infills on both sides of the same frame. It thus offers the possibility to apply large fabrics covering several frames, resulting in a seamless graphic.
Omni frames are made to order, meaning any frame dimension is possible. These frames can also be curved in different radiuses, allowing again a great deal of design creativity.
For more information about Aluvision, visit www.aluvision.com or contact info@aluvision.com.