A new chief operating officer is bringing 16 years of exhibit production experience to Olympus Group ("Olympus"), a pioneer in large-format digital printing.
Jason Ahart's focus as COO at Olympus will be quality initiatives and production systems, particularly Lean Manufacturing and long-term growth. As part of the executive team, Ahart will be responsible for the digital printing, sewing, purchasing, warehouse, and prepress departments.
"Olympus Group is a great organization with some really expansive capabilities. I'm excited to be a part of the team that helps them become even more successful," Ahart said.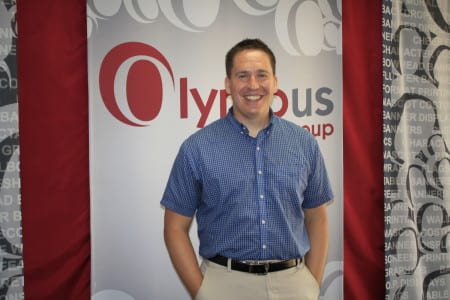 Ahart joins Olympus Group from Moss Inc., where he served in a variety of different areas for 16 years in the original Belfast, Maine and Salt Lake City locations. He was also a key member of their new acquisition-integration team. Ahart's professional background includes managing operations of a 100-person production facility, hiring and coaching staff, managing budgets, installing exhibit & retail signage on-site, creating and developing departments for new product lines, and touring Mexico to provide help in search of new markets. To lead Olympus to more efficient operations, Ahart will rely on his extensive background as well as his familiarity with Lean Manufacturing and Six Sigma theories.
"Jason's knowledge of manufacturing large format graphics, paired with an in-depth understanding of lean processes, makes him the perfect leader for our production departments. I'm happy to have him aboard," said Brian Adam, president, Olympus Group.
Ahart was born in Georgia and raised in Florida, then in Maine. He moved to Milwaukee from Salt Lake City. Ahart is married and has two children. He plans on sharing his love for basketball, grilling out, and eating brick oven-style pizza with the Olympus team.
"Olympus Group is a leader in the large-format custom printing and mascot costume industries," Ahart said. "The company is growing in all three of their U.S. locations to exceed the demands of their customers, and I could not resist the opportunity to be part of their growth."