By H. K. Wilson
Events are roaring back! And as the momentum builds, companies are grappling with new challenges like restaffing, upgrading technologies and creating new service strategies to answer increasing client demands. Collaboration is proving key to everyone's success. American industrialist Henry Ford said, "Coming together is a beginning; keeping together is progress; working together is success."
Olympus Group Turns to Durst P5 350 For Increased Quality and Productivity
A leader in custom printing, specializing in wide- and grand-format graphics, Olympus Group has provided branding solutions for more than 125 years. The company provides custom print solutions to high-profile clients across a variety of markets, including tradeshows and events, sports teams, entertainment and branded environments (www.olympuscustomprint.com).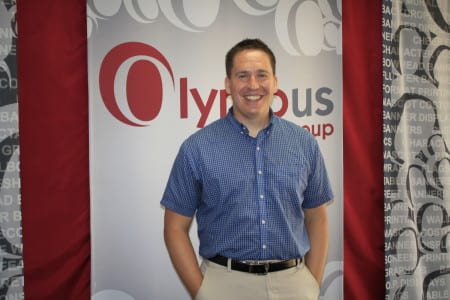 Met with the challenge of aging equipment and increasing downtime and waste, Olympus Group knew it was time to take advantage of new technology. "We needed to have a solution for printing both rigid and roll-to-roll," states Olympus Group's Chief Operating Officer Jason Ahart (pictured left). "This allows us to maximize the use of space within our facilities while also increasing capacity and improving turnaround speed."
Olympus Group turned to Durst and its innovative P5 350 platform that offers top print speeds, automation and workflow efficiency. This all-in-one hybrid large format UV LED inkjet press prints both rigid and roll materials up to 138" (3.5 meters) wide with 1200 dpi output. The P5 350 provides various options to this platform and brings expanded roll capabilities with controlled double-sided printing, allowing for fast media changes and innovative flexibility. The P5 350 is equipped with Durst Print Workflow software and exclusive Durst Analytics, turning the printer into a production unit from day one and offering enhanced production efficiency.
Olympus Group decided on the Durst P5 350 because the company wanted a dependable inkjet printer that is multi-functional and generates superior output quality, with versatility to accommodate roll-to-roll and rigid materials. "We are proud that Olympus Group selected Durst," says Larry D'Amico (pictured right), sales director, Durst North America. "We are excited to be an integral part of their business. The P5 350 provides the tools for growth with industry leading innovation and technology. We look forward to a longstanding partnership."
Durst Phototechnik AG is a leading manufacturer of professional digital imaging systems. The company operates manufacturing facilities in Brixen, Italy and Lienz, Austria, and has major offices in North America, France, United Kingdom, Germany, Spain, Mexico, Brazil and Singapore. Durst's reputation for quality and reliability spans more than 80 years.
For info on Durst Image Technology in the U.S., visit Durst North America: www.durstus.com.
Convention Cities Index Webinar Ranks Top Destinations for 2021
Take a deep dive into Northstar Meeting Group's annual ranking of the top 25 domestic and international cities for large events in a seminar slated for Wednesday, June 23 at 2:00 p.m. ET.
Selecting a convention destination can be difficult in the best of times, but the lockdowns have added new factors to the decision-making process. Northstar Meetings Group's Convention Cities Index identifies the best destinations for large-scale events and serves as an essential resource to aid planners in the selection process. The rankings are determined by a variety of factors, including available exhibit space, nearby hotel rooms, average hotel cost, travel time from the nearest international airport to the convention center, the number of daily flights, and local risk factors.
During this webcast, Northstar's vice president and content director Loren Edelstein will join associate editor Elise Schoening to discuss the methodology and findings of the second-annual Convention Cities Index. Michael Becker, CEO of the safety-analytics company GeoSure, will join the conversation to explain the key role safety plays in the industry's recovery.
This seminar earns 0.5 hours of CMP credit. Register at us02web.zoom.us/webinar/register/WN_nLVSyxtET6i6agOry8mJdQ.
ASAE's 2021 Marketing, Membership & Communications Conference Attracts Hundreds of First-Time Attendees
ASAE's virtual Marketing, Membership & Communications Conference June 2-4 was attended by a strong mix of association professionals, industry partners, speakers, press and vendors totaling 761 participants. More than 46 percent of registrants for this year's MMCC were first-time attendees. Additionally, there were 30 industry partner companies that participated in various registration and conversation packages, Insider Day demos, and Solution Chats, along with engagement through thought leadership supporter packages, such as the session tracks and keynotes. The ratio of buyers to sellers was 81 percent buyers to 19 percent sellers.
MMCC presentations and events fell under the headlines "Do Big Things," "Lead Big Tasks," "Take Big Steps" and "Have Big Ideas" in response to the rapid changes over the past year. The virtual event kicked off with a keynote from Erica Dhawan, best-selling author and leading authority on collaboration and innovation. She brought to life how connectional intelligence is turning people into "superconnectors" who accelerate innovation, break down silos and foster breakthrough bottom-line impact by harnessing the power of networks. She also shared tactics to address communication overload and foster authentic, innovation-driving relationships.
"MMCC was filled with the sharing of inspiring ideas, case studies and new solutions and tools to help organizations and professionals take big leaps forward," says ASAE's Chief Strategy Officer Robb Lee (pictured left). "We are thankful to our speakers, attendees and partners who provided information, value and depth to the conversations and services experienced by everyone throughout the conference."
All registrants for MMCC will have access to the eShow virtual platform and sessions on-demand through June 30. For more info, visit mmcc.asaecenter.org.
ESCA Hosts Panel to Discuss ALL IN Event Readiness Initiative
On June 15, an all-star lineup of industry experts participated in a panel discussion about ESCA's ALL-IN Event Readiness initiative. Panelists included David Causton, Neil McMullin, Randy Pekowski, Jeff Quade, Joanne Sanders, Chris Schimek and Damon Ross.
ALL-IN highlights how leaders from across the exhibition, meetings and events industry have an unwavering commitment, resilient confidence and a resolve to unite together for customers as the industry roars back. The organization has been strategizing and coming together with partners across venues, labor, contractors and suppliers to ensure that the industry is ready to execute the anticipated compressed show schedule in coming months. It addresses the "Three Rs" of the post-pandemic environment:
READY
How Are We Prepared?
Skilled Workforce Ready to Go
Hospitality Community Open and Hiring
More Experienced Contractor Staff Returning
RESTART
Why Change Now?
New Hiring Processes Working
Scaling for Balance
Leverage Technology to Meet Demands
RE/EVENT
What is New and Different?
Collaboration Across Event Industry Sectors
Supplemental Agreements, New Union Communications
Flexibility From Venues
Contractors Working Together, Resource Sharing
The panel illuminated how unprecedented collaboration has uncovered new solutions to current challenges while setting the stage for a more prosperous future.
ESCA has taken the lead as a voice for collaboration, advocacy and innovation during the pandemic. The organization is a key contributor to the Go Live Together initiative and the Exhibitions and Conferences Alliance (ECA), as well as a strong supporter of the Exhibitions Mean Business initiative. For more info, visit  www.esca.org/about/advocacy.
On the Road to Recovery is a series about celebrating the innovators, the imagineers and the glass-half-full types who keep finding new opportunities in our topsy-turvy world. If your company has created new products or found a way to pivot and keep working during these difficult and challenging times, please email us at newsdesk@exhibitcitynews.com for inclusion in future stories in this weekly series.