Orbus Exhibit & Display Group, a supplier of display, exhibit and event solutions, offers dealers the chance to win one of three prizes upon creating and submitting a short video through its Superstar Video Contest.
Running from Feb. 26 to Apr. 30 with the grand prize, first and second place winners being announced in May, the Superstar Video Contest calls all Orbus dealers to enter by filming and submitting either a product promotional or testimonial video.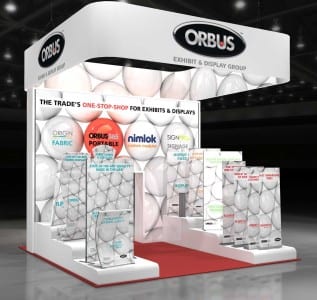 The product promotional video gives the dealer a chance to do their best and most creative sales pitch of a favorite Orbus Group display product. To be filmed in one to two minutes, the testimonial is a dealer's chance to explain in a fun, positive and creative way why they like to work with Orbus: whether it's the displays, service, and sales representatives or the marketing materials available that they love.
Entries will be considered by a panel of judges for one of three prizes. One Grand Prize Winner will receive a three-day trip to Chicago in October and the chance to spend a day with the Orbus team at its new manufacturing and production facility in Woodridge, Ill. One First Prize Winner will win a showroom display product package valued at $2,000, and one Second Prize Winner will also receive a showroom product package valued at $1,000.
Example display products that are offered as prizes will be on display at the company's booth at EXHIBITOR2014, #1259, held Mar.17-19 at the Mandalay Bay Convention Center in Las Vegas. Those interested in participating in the Superstar Video contest will have the opportunity to have their testimonial filmed in person at the show!