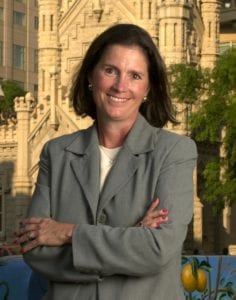 The "20 in their Twenties" program, supported by the PCMA Education Foundation and Visit Seattle, is designed to engage the best and brightest young professionals in the business event industry. By recognizing emerging leaders, and their talents, PCMA helps to support a new generation of business event strategists around the world.
"This is our fifth class of the twenty brightest talents in the industry worldwide. Each year, we continue to be inspired by the passion and insights these individuals bring to the business events community. It is our honor to recognize the excellence of these emerging innovative leaders," says Deborah Sexton, (pictured right) PCMA president and CEO.
"The 20 in their Twenties program is a great way to recognize and engage rising stars in the industry," adds Rob Hampton, senior vice president of convention sales and services for Visit Seattle. "It gives young professionals the opportunity to build camaraderie among their peers and gives us—the veterans in the industry—a chance to hear fresh ideas and perspectives and nurture new talent. This is a program Visit Seattle is proud to support."
20 in their Twenties Class of 2018
Alexandra Adsit, CMP, CEM, meeting planner, AAMC, Charlottesville, VA
Chloe Armstrong, bid executive, Melbourne Convention Bureau, Melbourne, Australia
Sina Bünte, DES, events manager, ICCA, Amsterdam Netherlands
Erica Critzer, CMP, regional director of sales, Visit Dallas, Arlington, VA
Patrick Crosson, CMP, producer, agencyEA, Chicago, IL
Carmen Ferrari, CMP, events, marketing mgr, European Photonics Industry Consortium, Amsterdam, Netherlands
Idil Findikoğlu, marketing manager, Kenes Group, Amsterdam, Netherlands
Karin Hagemann, head of conv. bureau, Montreux-Vevey Tourisme & Conv. Bureau, Bern Area, Switzerland
Caitlin Hume, CMP, business events manager, Risk and Insurance Management Society, Inc. (RIMS), NY, NY
Chloe Lai, conference producer, Medical Conference Partners, Kuala Lumpur, Malaysia
Annamarie Luccarelli, project coordinator, Conferences and Educational Programs, Harborside Press, Trenton, NJ
Samantha Mele, proposal & product developer, JPdL, Toronto, ON
Cahal Mowery, MBA, CMP, CTA, director of sales & catering, JW Marriott Houston Downtown, Houston, TX
Brittany Saylor, senior meeting planner, Right Hand Events, San Diego, CA
Barrie Schwartz, founder/CEO, My House Social, New Orleans, LA
Allison Shebek, associate director of experience design, AlliedPRA, Phoenix, AZ
Kyle Smith, DES, digital event strategist, Conference Consultancy South Africa, Johannesburg, South Africa
Sara Stehle, CMP, conference specialist, International Association of Fire Chiefs, Washington, D.C.
Andrew Sykes, assistant general manager, FMAV, Halifax, Nova Scotia
Rasheena Wilson, CMP, meeting and exhibits coordinator, American Society of Nephrology, Washington, D.C.
Criteria for applicants was to be employed full time in the business events industry, be 29 years old or younger at the time of recognition and to demonstrate ways they consider themselves to be industry leaders. Applicants were not required to be PCMA members. A committee made up of veteran industry professionals and 20 in their Twenties alumni reviewed approximately 50 applications in detail before deciding on the class.
The individuals selected will receive a scholarship registration to attend PCMA's signature event, Convening Leaders this January in Nashville, Tenn.; complimentary registration for PCMA's June conference in Cleveland, Ohio, in June 2018; as well as one year of PCMA membership. In addition, recipients will receive membership and registration discounts for the next two years.
Recipients will be recognized at Convening Leaders this January, as well as in Convene magazine and other PCMA communications.
PCMA inspires, connects and innovates the global business events community. We are the world's largest community for business events strategists; providing senior education and networking for the events sector. PCMA crafts and shares knowledge and market intelligence enabling organizations to make informed business decisions, while providing a platform for peer-to-peer exchange. Headquartered in Chicago, PCMA has 17 chapters throughout the U.S., Canada and Mexico with members in more than 40 countries. For more info, visit pcma.org and the PCMA Convene magazine at pcmaconvene.org.