Helping hotels, resorts and convention centers improve guest experience, drive revenue and enhance meeting services is MobileVenue, a fully branded mobile app brought by enterprise event app creator QuickMobile.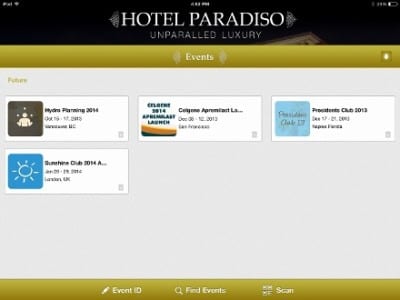 "Business and casual travelers rely on their smartphones and tablets to navigate their daily lives, and MobileVenue places all the information they need about their destination right at their fingertips," said Patrick Payne, CEO, QuickMobile.
With MobileVenue, facility operators can deliver timely, valuable information directly to their guests' smartphones and tablets to encourage guests to connect and engage with the venue and its amenities. The app also supports on-site meetings and conferences, allowing hotel operators to offer mobile event apps as an added value to event customers. Hotel guests and meeting attendees only need MobileVenue on their mobile devices to access hotel information and meeting content.
"If hotels and resorts can deliver timely, relevant and easily accessible information about on-site amenities, and local services and attractions, they can improve the overall guest experience, increase visibility for the hotel brand and generate more business from across the organization," added Payne. "In addition, the hotel can provide event customers with a versatile, functional meeting companion dedicated to keeping them educated and engaged. MobileVenue helps hotels, resorts and convention centers build stronger loyalty and satisfaction with guests and meeting organizers."
MobileVenue is powered by the QuickMobile platform, the event industry's leading mobile app development solution. The mobile solution solves the challenges of communicating effectively with hotel guests, promoting amenities and differentiating event services from competitors. Hotels, resorts and conference centers can easily configure the app according to their established brand standards, including background images, logos and banners. They can include separate schedules and contact information for various on-site services, such as restaurants, bars and spas. Guests can also access maps, menus and other documents as well as virtual information booths customized to the venue and surrounding area.
Features of MobileVenue:
Amenities & Services – timely information about venues and amenities
Area attractions – maintain a list of attractions, with contact information, maps, descriptions, etc.
Schedules – create a master venue schedule or separate ones for various amenities, such as spa, restaurant, golf course, salon, etc.
Messaging – use in-app messages and push notifications to send timely information and offers to app users; discreetly communicate with guests
Year-round engagement – stay in touch with guests as long as the app stays installed on their devices
Sustainable – 100 percent paperless; support a venue's sustainability initiatives by reducing dependence on fliers, paper notices and documents, etc.
Multilingual – cater to guests in major business languages: English, French, German, Spanish, Portuguese, Chinese (traditional and simplified), Japanese and Korean