Sho-Link Incorporated, a premier installation and dismantle service company, named a Chicago assistant city manager, according to President Scott Rudel.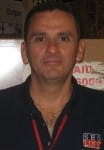 Joining Sho-Link as a regular 12 years ago, David DeJesus was a great addition to an already strong work force.
"Dave will be a perfect fit to our management team here in Chicago," stated Mike DeGiacomo, city manager, Sho-Link.  "He's not only known and well received by our clients through the years, but has established good relationships with the workforces at McCormick Place. This will help Sho-Link Chicago raise the level of service above what our clients already have seen and expect."
Prior to his new role at the company, DeJesus joined the ranks of the carpenters union in 1989 and started working tradeshows and events at McCormick Place shortly thereafter.  Over the next 25 years, he worked for not only the general contractors, but most EACs as well.
For more information about Sho-Link, visit www.sho-link.com or call (847) 735-0640.