In 1997, like-minded executives, formerly of International Business Machines (IBM) and later Virtual Resources, founded ShowNets, a provider of custom Internet services.
With IBM's Global Network in 1995, David Bishop sold the concept of IBM "putting the net" into Internet World, an event owned by Mecklermedia. IBM co-worker Dean Fuller was brought in to manage the team who would provide the Internet services. While Bishop's interest in this arena grew, IBM eventually left the Internet tradeshow business.
Bishop later moved to Virtual Resources, a network reseller and consulting firm, hoping to get the company involved in providing Internet for events. During his time there, he secured a contract from show producer International Data Group (IDG) for Internet Commerce Expo. Bishop again reached out to Fuller to join him at Virtual Resources where they met co-worker Paul Gillespie.
When Virtual Resources changed directions, Bishop united with Fuller, Gillespie and David Buechner, a former partner, to create ShowNets.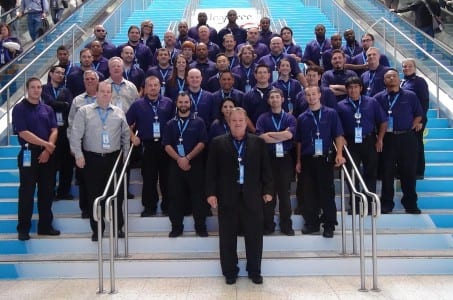 Smart hiring practices by these partners manifested into various longtime technicians, support staff and event contractors. Many of these team members have worked for the company nearly as long as the founders. Together, they contributed to a successful 17 years for ShowNets.
These employees embraced the company's culture and customer service values. They became the band driving two major sides of the business – the road events and network management for facilities.
On the road with family
After its founding, ShowNets employees immediately started installing and managing the Internet for IDG's Internet Commerce Expo. This relationship grew with ShowNets handling most of the major IDG events, such as Linux World Expo, MacWorld Expo and Electronic Entertainment Expo (E3).
"After I retired from IBM, they decided not to continue doing the tradeshow business. They contacted me and signed over to us the Internet World contract in 1999," stated Dean Fuller, partner, ShowNets.
"We ran two Internet World events a year in Javits in New York and the Los Angeles Convention Center as well as Internet World Canada in Toronto for several years until that event ran its course," added David Bishop, managing partner, ShowNets. "We are fortunate to have such good working relationships with our clients. We strive to always deliver the high-quality and reliable Internet services they are looking for, and that gets us invited back to the party."
Now the ShowNets crew travels across the U.S. They set up Internet for events at convention centers, hotels, stadiums and college campuses.
On the show floor, novice technicians are guided by team leaders. Due to its sheer size, E3 provides the best training ground for new personnel. For experienced employees, E3 demonstrates their leadership abilities.
"We have a good group of core employees who do a lot of shows with us every year. We also have contractors who work in other convention centers and are looking to supplement their income or get out on the road. We have some of the younger guys fresh out of college," said Brian Knerien, director of event operations, ShowNets. "We have technicians highly capable of troubleshooting and are good at higher levels of network [installation]."
In his tenth year with ShowNets, Knerien rose in the ranks after starting as a contractor. He not only oversees event logistics, but also handles personnel planning.
"Team leaders are who I put in charge of small groups to lead them during the [Internet] installation. Typically our team leaders exhibit exceptional troubleshooting skills, not just from a physical perspective but from a logical network perspective. I try to get everyone trained in that area. I'm a big believer in cross training. It makes us stronger as a group the more knowledge everyone has," he added.
A technician brought on by Knerien, David Delacruz has served ShowNets since summer 2007. Starting as a contractor, he went full-time in 2012. In the past, he handled network closet installation at convention centers. Recently, he entered the network management side of events.
"I've known Brian [Knerien] since I was a kid. He asked if I wanted to check out a show. After that event, he asked if I wanted to work one. I was working at Starbucks. I quit and started working with [ShowNets] full-time. It was neat to see us grow to the family we have now," stated Delacruz.
Most of ShowNets' employees travel together constantly. They usually share company-owned condos when working in the Los Angeles area. Therefore, a close-knit group dynamic is easily felt among everyone.
"When traveling to different cities for long periods of time, it is very important you get along with everybody. We only bring in people we can stand to be with for months at a time," explained Delacruz. "Ninety-five percent of everyone working with us now has done at least four to five shows with us. It's nice having the same people who know what we're doing and how we work."
Because ShowNets demonstrates its appreciation for employees on the job or at company-sponsored award ceremonies, many employees in turn show their dedication to the company. Challenged by his pregnant wife being on bed rest, a facility administrator fully committed to monitoring networks for E3 remotely.
Facility administrators are based in Georgia, where ShowNets' headquarters is located. They work under Jim Loring, the director of facilities technology.
"ShowNets is split into two paradigms — our road events and our networks and buildings that are static, like Knoxville Convention Center. There is a network there that is permanent. We are the vendor," explained Wayne Bishop, chief technology officer, ShowNets. "Jim handles anywhere we have a permanent network installed, which is Las Vegas and Knoxville. We are working on some other ones. That's starting to grow."
"The simple pane of glass"
Another former IBM employee, Vice President of Facilities Network Services William "Bill" Duffy has served ShowNets for 15 years. Nearly two years ago, he began growing the network management for facilities side of the business.
Using its Atlanta-based remote engineering operation, ShowNets monitors the networks of its facility partners. This Network Operations Center works as a backup monitoring station for road events.
"It's an efficient way to go about centralized support. The industry term is 'simple pane of glass.' You're looking at one monitor and monitoring multiple facilities. Monitoring one simple pane of glass is optimum," explained Duffy. "Large corporations and outsourcers do the same thing. They consolidate data centers and have multiple customers within a single data center they can monitor."
The company's remote capabilities went hand in hand with its ability to automate Internet infrastructure at second- and third-tier convention centers. Automation saves facilities money by reducing labor costs.
"We may not replace staff but reduce staff to increase automation and technology. This provides a lot of benefit to facility owners, which in most cases is a city or state. They reduce their labor, and we share in the revenue gain," stated Duffy.
ShowNets remotely monitors and automates the 500,000 square-foot Knoxville Convention Center in Tennessee.
"In Knoxville, it's one person covering five days of the week. [The convention center] may have 16 weeks of activity. You see a big benefit of having automation," he said.
At its flagship facility in Las Vegas, ShowNets operates differently. As a vendor for Cox Communications, ShowNets provides Internet services at the Las Vegas Convention Center (LVCC), a tier-one facility and the third largest in the U.S. The convention center has 16 days out of the entire year with no show moving in or out. Therefore, ShowNets hired 29 employees to manage the network and handle services on the show floor.
"It's not that we don't use automation in Las Vegas. It's just there is only so much automation would cover you," he added.
The company is looking forward to building partnerships with other facilities. ShowNets already has more convention centers and management groups in the pipeline, according to Duffy.
ShowNets also provides Internet services for venues managed by SMG. When Moscone Center in San Francisco and McCormick Place in Chicago transitioned their Internet infrastructure from old to new, ShowNets installed temporary networks to support tradeshows.
Outside of custom Internet services, ShowNets provides project management and consulting services. The company has also worked with Century Link and XO on different projects.