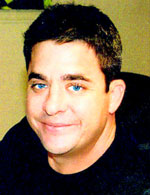 Kurtis "Kurt" Johnson, son of Dallas installation and dismantle (I&D) professionals, Skip and Sandy Johnson, died suddenly at home on Nov. 28.  Skip and Sandy Johnson have been fixtures in the I&D world in Dallas for more than 30 years, and both of their sons have also been in the tradeshow industry since their youth.


Although Kurt did not work exclusively for Momentum Management, he had become a key part of the company's operation and the entire Momentum team is deeply saddened by his sudden passing.  Momentum is in the process of raising funds for Kurt's family, his wife and their two young children.
"Kurt was an exceptional young man," said John Ramaglia, vice president of operations, Momentum Management. "He was hardworking, a phenomenal I&D guy, and he was loved by the customers that he served as well as the other workers he came to know over the years.  He was a great father and husband."
Kurt leaves behind his two children, ages two and four, his wife, Amy, brother Kevin and his parents. If you knew Kurt and his family, and would like to help in some way, please contact John Ramaglia at Momentum via email at jramaglia@momentummgt.com or by calling (770) 777-4100.