During the UFI board of directors meeting in St. Petersburg, Russia, the forming of the next UFI presidential triumvirate took place.
This three-leader system provides for greater management continuity, according to UFI – the global association of the exhibition industry. It also enables the association to represent the exhibition sector in a greater number of international industry events and activities.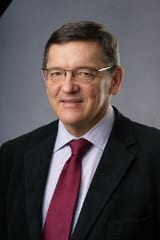 Completing the trio is Incoming President Sergey Alexeev (ExpoForum-International Ltd., Russian Federation).
He joins the 2014-2015 President Andrés Lopez-Valderrama (Corferias, Colombia) and Outgoing President Renaud Hamaide (Comexposium/ViParis).
This decision becomes effective at the conclusion of the 81st UFI Annual Congress in Bogota from Oct. 29 to Nov. 1 for the 2014-2015 term of office. UFI has thus ensured that Sergey Alexeev can move seamlessly into the position of president for 2015-2016.
"Sergey brings 30 years of exhibition-related experience to our UFI president's trio! As the first Russian UFI President, he will certainly provide valuable insights for the development of UFI programs in this country," said Renaud Hamaide.
From 1986 to 2012, Alexeev was director general, PJSC at Lenexpo. During this time, the exhibition complex was renewed and an exhibition events program was created. In 2012, ExpoForum acquired Lenexpo's entire exhibition portfolio and also took out a lease on the Lenexpo Exhibition Complex. Alexeev is currently vice president of ExpoForum-International Ltd.
"Joining the UFI presidential trio is a reflection of the prospects and professionalism of the Russian exhibition industry. Over the past 20 years, Russia has taken its place among the world's exhibition leaders. Today, we play a key role in supporting the development of the Russian economy as a major partner in the global economy," said Alexeev.
He is a board member of the Chamber of Commerce and Industry of the Russian Federation; chairman of the Council of Saint-Petersburg Chamber of Commerce and Industry; and honorary consul general of the Republic of the Philippines in Saint-Petersburg, Russia.
Alexeev has served as the president of the Russian Union of Exhibitions and Fairs (RUEF) since 1991. He is also chairman of the Exhibition committee for Russian Union of Industrialists and Entrepreneurs.
Since 2008, he served as chair of the European Regional Chapter of UFI. Alexeev is a member of the UFI board of directors and a vice president of the UFI Executive Committee. It is in his capacity as president of RUEF that his colleagues from the global exhibition community selected him to a one-year term as president of UFI beginning in November 2015. He will begin his rotation on the UFI presidential trio in November 2014 as UFI's incoming president.