Jan. 2
Readers who remember the surroundings of Chicago's McCormick Place will recall this city block just west of the convention center. Looking east on 23rd Street from Calumet Avenue, The McCormick Inn, Sauer's Restaurant, P.S. Recording Studios and the Lakeside Bank are all visible in this photo. Eventually, the block was demolished to make way for a series of future McCormick expansions. 
Jan. 9
This major exhibit freight facility was considered "state of the art" in 1999. How much has it grown in nearly 15 years? Freeman's (then) new 27,000 sq. ft. cross dock freight facility, which opened Feb. 1, 1999, at 2500 W. 35th Street in Chicago, was targeted to improve efficiencies in handling exhibitors' advance freight. Today, the company plans to open a new 356,000 sq. ft. facility in the Chicago suburb of McCook in May 2014.
Jan. 16
In 1989, several exhibit industry veterans gathered to honor the late long-time Exhibitgroup chief Leo McDonald, who at the time was retiring. Larry Kulchawik, pictured at podium, told ECN: "Leo was a pioneer and Hazel Hays winner [in 1995] who was the first to create a network of exhibit companies and national rental program. For a short time Leo was both president of GES and Exhibitgroup nationwide. Leo retired to Captiva Island, Fla., and passed away in February of 2012."
Jan. 23

In 1999, a fire forced Cobo Hall in Detroit to close, shuttering the last day of exhibitions at the Society of Automotive Engineers Congress. The four-alarm blaze, fueled by crates and propane tanks, broke out at midnight the previous evening. The main exhibition hall was unaffected but a rear loading dock area was damaged, along with a wall at the adjacent Joe Louis Arena. SAE attendees, pictured, were mulling around Hall entrances, awaiting an all-clear. Ironically, the same facility escaped similar tragedy in 2010 when an electrical fire affected the Audi exhibit at the Detroit Auto Show that year, spreading smoke throughout Cobo Hall. Officials evacuated the complex despite the apparent lack of fire annunciating equipment, according to published reports.
Jan. 30

Pictured is the former Chateau Vegas restaurant, once outfitted in red-velvet upholstery with a harpist. It stood on the south side of Desert Inn Rd., across from Las Vegas Convention Center (LVCC) and long before the busy east-west thoroughfare was converted to an underpass underneath LVCC. Previously, the restaurant was owned by the late Bob Stupak, a famed Las Vegas casino operator.
Feb. 6

Once home to notable stars such as Elvis Presley, Danny Thomas and Phyllis Diller, among others, the former Landmark Hotel and Casino stood at 364 Convention Center Drive in Las Vegas. Clearly visible in the picture in the background over the Central Hall of the Las Vegas Convention Center (LVCC), the 525-room hotel opened in 1969 and closed in Aug. 1990. Once owned by the iconic Howard Hughes, its demolition came in the form of an implosion in Nov. 1995. Real footage of the implosion was used in the movie "Mars Attacks." The site of the former hotel is now a 2,000 space parking lot on the west side of the LVCC.

Feb. 13

The addition of the North Building of McCormick Place in Chicago was another sign of the constant growth and continuing evolution that this convention center has seen over the years.
Erected in 1986, the North Building alone features three levels combined with meeting rooms that yield nearly 705,000 square feet of exhibit space. As a whole, the total square footage of exhibit space at McCormick Place (which is comprehensive of the West, South, North Buildings and Lakeside Center) rounds out at 2.6 million square feet of exhibit space.
Feb. 20

In a show of support representing the city of Chicago working with associations, here is an example of that support. The city rolled out its "red carpet" for the American Society of Association Executives (ASAE) as they hosted their 1997 annual meeting here with Chicago Bulls mascot Benny the Bull and the Luvabulls, the official Chicago Bulls Cheerleaders. The ASAE event drew about 5,400 attendees to McCormick Place in July of that year.
Feb. 27

Messe Düsseldorf has grown over the years, and this retro photo is a testament to that growth. Here is a map legend of the original Messe Düsseldorf grounds long before five additional buildings and an arena were built. The complex today has 19 halls with 3.2 million square feet of total exhibit space.
Mar. 6
Temporary structures, according to ECN Publisher Don Svehla, are the epicenters of the tradeshow industry. Readers may suspect this is at Las Vegas Convention Center, but the orientation of the photo is unknown. We're unsure if this if this is on the south side of Desert Inn Rd. or the present-day Gold Lot.
Mar. 13
Sometimes, there are just as many memorable stories during setup of a trade show as they are during the actual show. Teardowns, such as this one shown here in the far north end of McCormick Place's North Hall (dock area), could also be extraordinary. While this particular show is unknown, the year is 1996. What has been your most unforgettable setup or teardown event? Please share it with us.
Mar. 27
Clearly, technology has changed in 14 years. In this photo shown at TS2, held at the former Washington Convention Center in 2000, attendees were checking their e-mail and browsing the Web using desktop workstations. Now the tradeshow trend is charging stations where attendees can stop and charge their handheld mobile devices while performing that same activity.
Apr. 3
How many remember "Cows on Parade," the public art exhibit featured in many major cities worldwide? The exhibit took Chicago by storm in 1999 during the time TS2 was happening. The fiberglass sculptures featured local cultural designs and other themes.
Apr. 10
Here's a guest submission courtesy of our friends at the Las Vegas Convention & Visitors Authority, who in 2014 are celebrating the 55th year of the Las Vegas Convention Center (LVCC). How many of you remember the original LVCC edifice from back in 1959? More importantly, what are your early memories of the original LVCC?
Apr. 17
The convention scene in Washington, D.C. was about to change dramatically when this photo was taken. Opening in 2003, the Walter E. Washington Convention Center houses 2.3 million square ft. of convention and meeting space. The center replaced a former facility that opened in 1983 and in 2007, it was renamed after the District of Columbia's first home rule mayor. What are your early memories of the original Washington Convention Center?
Apr. 24
This was considered the "TS2 band," here to welcome attendees of TS2 in 2000. One person stands out in this picture; take a look at the guitarist. Isn't that our own Pat Friedlander?
May 1
During the inaugural annual meeting of the EACA in 1999, which took place in conjunction with TS2 at the Navy Pier in Chicago, the organization hosted a "Showfloor Olympics" for show floor workers. Games included setting up, taking down and moving a pop up display, a tape toss and industry-related questions. As part of the event, Cliff Germano (second from the right) and Al "Big Al" Lichtman (far right) of Painters District Council 78 were the winners of the first-ever "Olympic" competition. Mary Beth Rebedeau (far left), who was on the EACA Board as show manager director at the time, was one of the judges of the competition.
May 8
Just over 10 years ago, these four women graced the front cover of Exhibit City News in our April 2004 issue as women with careers in the I&D industry. Left to right: Francine Edwards became a carpenter apprentice in Las Vegas, working alongside male colleagues at the Consumer Electronics Show, MAGIC Marketplace and homebuilder tradeshows; Katie Van Diggelsen began as a secretary before moving her way up to account executive at Zenith LaborNet Inc. in Chicago, eventually starting and selling two businesses – a building and fabrication start-up and an I&D company; Renee Jones was the first female ever selected as a union steward for the Las Vegas chapter of the International Brotherhood of Electrical Workers; Faye Harper has moved up the ranks at the International Alliance of Theatrical Stage Employees (IATSE), from being a stagehand to being elected as IATSE International Trustee.
See full-length article:
https://exhibitcitynews.com/women-making-careers-id-industry
May 15
John Koziol joined the tradeshow and exhibition industry in 1979, alongside Exhibit City News Publisher Don Svehla. He worked at Metro Exhibit from 1992 to 2002, and knew exactly how to bring the funk to the dance floor…or actually, the show floor. A true innovator, John attached a boombox onto the back of his forklift, playing heavy metal music through four speakers to 'lift' spirits as he worked on the show floor. "He was a great man, always willing to help anyone," shared Brian Phebus of his late colleague.
May 22
At EXHIBITOR2014, ASTOUND Group, a global design and fabrication house, took Twitter hashtags to the next level. Near and dear to exhibition industry professionals, the phrase #ihearttradeshows perfectly encapsulated what exhibitors and attendees felt on the show floor at Mandalay Bay Convention Center in Las Vegas. Trending at the top-rated educational conference and tradeshow held in March 2014, the hashtag was seen in the form of T-shirts, bags, coffee mugs and, of course, freshly brewed cups of coffees and cappuccinos from ASTOUND 'baristas.'
See full-length article:
ASTOUND Group proves coffee attracts buyers and sales
May 29
In 2012, American Furniture Rental (AFR) showcased its furnishings and accessories in key cities across the U.S. as part of its Design and Inspire Nationwide Showcase and Networking Tour. Giving event professionals in each community a unique experience, AFR's events featured various themes and performers as well as the involvement of local suppliers. To complement the Electric theme of the Las Vegas tour stop, Champagne Creative Group delivered one of its entertainment architects – a 12-foot high opera singer. In the lobby of the World Market Center, this eye-catching performer greeted guests as they entered an event space featuring everything from blackjack tables and performers to oversized bubbles and drag queens.
June 12
In 2013, the Las Vegas chapter of the EDPA hosted the 11th Annual Tradeshow Industry Education Scholarship Golf Classic at the Revere Golf Club in Henderson. EDPA announced Team EFI as the 1st place winners of 2013: Norman Davies, Brent Toft, Brandon Sipe and Kurtis Kestler.

See full-length article:
Golfing for a good cause
June 26
In 1996, crews at McCormick Place tested to see whether trucks will fit into the South Building. Today, direct access to the show floor is available via drive-in ramps through two freight doors, each 18 feet wide x 15 feet high in Hall A1 and through one freight door measuring 20 feet wide x 24 feet high or two freight doors that are 18 feet wide x 15 feet high at Hall A2.
July 3
David Mihalik and wife Leslie founded Elite Cargo in 1987. When the business focus shifted from computers and high tech materials to tradeshow cargo, so did the name and fate of its founder. Rebranded to ELITeXPO Cargo Systems in 1990, Mihalik has gained much recognition in the exhibition industry, earning EACA's Intrepid Award in 2009 before the association's merger as E2MA. As the sole author of Carrier Standards of Performance, sponsored by then-EACA, Mihalik defined the roles and standards for freight forwarding. Launching its Tradeshow Services Division in 2009, ELITeXPO continues to provide full property management worldwide.
July 10
Used at the Las Vegas Convention Center by its Fire Prevention team, the Las Vegas Convention and Visitors Authority (LVCVA) fire engine cart was originally brought into the fleet in 1979. More than 35 years old, the cart is 78 inches long, 36 inches high and 30 inches wide. In the last five years, the cart has only had 12 work orders put in for repairs, six of which were for flat tires, making it one of the most dependable carts in the fleet. Currently, the little fire engine that could is painted in white.
July 17
To become the South Building at McCormick Place, a proposed $987 million expansion to the convention center was authorized by the Illinois General Assembly in 1991. The expansion was financed by those industries deemed to directly benefit from the complex. Taking place on June 22, 1995, the "Topping Off" Ceremony for the expansion would add 840,000 square feet of exhibition space, plus 160,000 square feet of meeting room space.
July 24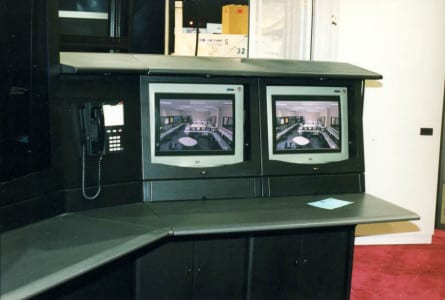 During the NetWorld + Interop 2000 show held  at the Las Vegas Convention Center on May 9-11, 2000, 750 exhibitors and over 70,000 delegates attended what is today a leading independent technology conference and expo series for the world's IT community. Tight security was needed at the 3-day interactive show floor where Bill Gates appeared as the keynote speaker.
July 31
Better known as "The Randy," the Randy Smith Memorial Golf Classic's seventh annual tournament was held at Chateau Elan Winery & Resort in Atlanta on Oct. 19, 2001, then hosted by The Folio Group. Following so close on the heels of 9/11, the charity golf tournament was a somber affair with 200 professionals showing up in support of the RSMGC. Recipients included Michelle Dekker of Renaissance Management, the family of the late Steve Roberts of Design South, and Danielle and Conner Smith of Exhibitree. 
Aug. 6
Construction was underway on Freeman Co.'s 242,000 square-foot facility in Orlando Central Park in 1997, then valued at $15 million. At the time, Freeman held the third-largest lease in Central Florida commercial/industrial real estate annals at 15 years. The general service contractor first ran its Orlando operations out of a 20,000 square-foot building. Today, the Dallas-based organization boasts six corporate locations with 70 domestic and international branches in North America and the UK.
Aug. 20
John Paul McGregor, whose father owned McGregor Rents Furniture, joined the rental furniture business when a customer asked to rent instead of buying furniture. The Mississippi-based furniture retailer agreed to the request and began offering rent-to-use pieces for seasonal residents and extended-stay executives in the Southern belt. Today, the McGregor family brings three generations of experience into the tradeshow industry. John Paul manages Inventory Control while his brother Stephen is a Trade Show Coordinator for AFR Furniture Rental & Event Furnishings in Orlando.
Sept. 4
In 1992, Sam Lippman was the staff vice president of the Consumer Electronics Shows (CES). His first show management job was with the National Computer Conference from 1980 to 1984.
Lippman started his career with United Exposition Service Company (now GES), producing shows in Chicago, Detroit and New York City.
Currently, he serves as president and founder of Lippman Connects, consulting the exhibition and convention industry in strategic planning, marketing and management, and producing the Exhibition and Convention Executives Forum (ECEF).
Sept. 11
In 2001, the terrorist attack of 9/11 occurred in the early morning hours, bringing the entire nation to a halt. Striking the hearts of every American, the tradeshow industry was moved to tears and then to action to rebuild what was lost.
Our Oct. 2001 issue featured the Las Vegas branch of Exhibitgroup/Giltspur with a 20 x 80-foot patriotic banner in support of the victims of 9/11.
Sept. 18
 The late Bob Firks passed in March 2013, but his legacy stays strong. A known believer in industry unity, his long list of accomplishments include founder of Sho-Link Inc.; president of Giltspur – Chicago; EDPA president (1977, 1978); Trade Show Bureau founding member and past president, now known as CEIR; and a winner of the prestigious Hazel Hays Award, which he helped to start. As past president of EDPA, Firks helped to refocus its mission statement and to create an exhibit building standards manual for safety.
Sept. 25
Contempo Design Inc., a designer and producer of tradeshow exhibits and retail environments, was previously headquartered in Libertyville, Ill. At its height, Contempo was one of the top three exhibit marketing firms in the industry, raking in $60 million in sales. On its 1996 booth at Exhibitor Show, the firm named satellite offices in Chicago, San Francisco, New York and Amsterdam, where it operated a full-service facility. Shortly after the company's closure, former president and Harvard graduate, Rob Shaw, passed away in May 2008.
Oct. 2
Despite a downsized COMDEX Fall 2001, Microsoft Corp. chairman and chief software architect Bill Gates addressed a crowd of 15,000 with forecasts for the "Digital Decade" during his annual state of the industry keynote speech. A building wrap at the Marriott Suites across from the Las Vegas Convention Center ushered in Microsoft's then-newly released Windows XP while Gates predicted a takeover by tablets within 5 years and treated attendees to a sneak peak of the Xbox gaming console.
Oct. 9
GES held a ribbon cutting ceremony for the opening of its Las Vegas Flagship facility on Dec. 20, 2002. Pictured from left to right: Rod Martin of Majestic Realty, Paul Dykstra (then President and CEO of GES, now Chairman of parent-company Viad), the late Manny Cortez (then president of the LVCVA,), Tim Snow of Thomas & Mack Development, and Al Dyess (then EVP & General Manager of GES Las Vegas, now with PRG).
Oct. 16
From left to right, the former partners of Illinois-based Dimension Works – John Wilen, Reed Nitsche and Ken Dahlin – established the full-service exhibit design and fabrication company in 1978. The firm also provided exhibits, I&D, show services and turn-key marketing programs in diverse industries. Acquired by Exhibitgroup/Giltspur for an undisclosed sum, Dimension Works was considered among the top 10 companies for quality of work and service by its new owners.
Oct. 23
SuperComm, a telecommunications and digital-technology tradeshow since 1988, canceled its 2010 show originally slated for late October at McCormick Place. Show sponsors Telecommunications Industry Assn. and U.S. Telecom Assn. along with show manager Reed Exhibitions cited weak financial and attendance projections. The show attracted just over 6,400 attendees during its last event in 2009.
Oct. 30
Originally founded by Paul Hanlon in 1987, Boston-area independent exhibit house Folio Exhibits Inc. was sold to Sean Mahoney and Craig Stevens in 1998. The company's numerous acquisitions, upgraded warehouse facility and seemingly strong start to becoming a national chain never gained success. When the economy fell following the 9/11 terrorist attacks, so too did Folio and its former executives.
Nov. 6
Circling the Long Beach Convention & Entertainment Center, the Toyota Grand Prix of Long Beach is the longest running street circuit for race cars in North America, spanning 1.968 miles. What started as a Formula 5000 race through the streets of downtown in 1975 now brings 200,000 to the Southern California beach city each year for the Verizon IndyCar Series.
Nov. 13
Formerly known as the House Furnishing Goods Exhibition, the National Housewares Manufacturers Association (NHMA) Show included an exhibit fee between $50-$100 at its first show in 1906. Faulty electrical wiring ignited an exhibitor's booth at the 1967 show held at McCormick Place in Chicago. The fire that spread burned down the largest exposition hall in the U.S. The NHMA Show would return to inaugurate the rebuilt McCormick Place in 1971.
Nov. 20
Designed by W.W. Boyington, the Inter-State Exposition Building in Chicago was built 1873. Standing tall on Michigan Avenue at Adams Street, the building hosted tradeshows, musical performances, political meetings and public gatherings beneath its glass and iron roof. Its most famous event was the Inter-State Exposition from September to November 1873, promoting the commercial promise of the Midwest. In 1892, the building was replaced by the Art Institute of Chicago.
Nov. 27
By royal commission, Prince Albert, Henry Cole and Joseph Paxton conceptualized the Great Exhibition of the Works of Industry of All Nations in 1851. Approximately 6 million attendees viewed goods in four categories by 7,351 exhibitors hailing from 6,556 foreign countries. Hosted at the Crystal Palace, the building itself was an architectural gem with 33 million cubic feet of exhibition space spanning 18 acres.
Dec. 4
Moved by the architecture of the original Crystal Palace, completed in a swift nine months, Poet William Makepeace Thackeray inked his awe:
But yesterday was a naked sod
The dandies sneered form Rotten Row
And cantered o'er it to and fro;
and see 'tis done!
As though 'twere by a wizard's rod
A blazing arch of lucid glass
Leaps like a fountain from the grass
To meet the sun!
Due to the terms of the original agreement, the English Parliament voted to level the original building and build a new, larger Crystal Palace in Sydenham outside of London as a facility for leisure rather than industry.
Dec. 11
Before ExhibitGroup became GES and before TS² closed its doors, the designer and manufacturer of exhibits put its 10² Structural System on display at its first TS² show. Under the former Trade Show Exhibitors Association (TSEA), the annual tradeshow and conference was branded as "The Trade Show About Trade Shows." Sold to the National Trade Productions (NTP) in 2004, the show was finally cancelled in 2012.
Dec. 18
The Georgia World Congress Center (GWCC) officially opened its first exhibition hall on Sept.8, 1976, to host the Bobbin Show/American Apparel Manufacturers Association. GWCC opened its doors as one of the nation's premier convention facilities with 350,000 square feet of exhibit space. Today, the facility features 1.4 million square feet of exhibit space, making GWCC one of the top five largest convention centers in the country.
Dec. 25
Debuting as Export Messe Hannover in 1947, the world's leading trade fair for industrial technology now known as the Hannover Fair was once dubbed the "fish sandwich fair." Ticketholders were entitled to one sandwich, otherwise only available with a ration card. To revive a war-torn England, exhibitors were housed in schools or with locals due to the shortage of hotels. Later, a presidential request to move the show to autumn to help the auto industry's seasonal sales was a testament to its success.
Jan. 9